12.09.2019 | Original Article | Ausgabe 1/2020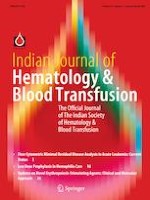 Application of Perioperative Transfusion Trigger Score in Patients Undergoing Surgical Treatment of Malignant Tumor
Zeitschrift:
Autoren:

Fan Zhang, Ze-Bing Zheng, Zhao-Qiong Zhu, De-Xing Liu, Jin Liu
Wichtige Hinweise
Publisher's Note
Springer Nature remains neutral with regard to jurisdictional claims in published maps and institutional affiliations.
Abstract
The present study aimed to investigate the clinical effects of the brand new perioperative transfusion trigger score (POTTS) system in patients undergoing malignant tumor surgeries. 442 cases of patients diagnosed with malignant tumor were randomly selected (from January 2012 to December 2016) from Zunyi Medical University and were divided into 3 experimental groups. Patients in the POTTS group were transfused by the POTTS guideline perioperatively, while patients in the 7–10 g group were treated by the traditional transfusion guidelines existed (restrictive transfusion strategy), patients in the 10 g group should be transfused to keep the Hb level no less than 10 g/dL (liberal transfusion strategy). Baseline information, operation time, bleeding volume, transfusion amount, incision healing time, postoperative complications, metastasis and recurrence were observed and recorded. Postoperative short-term mortality was comparable of the 3 groups, 3 cases of death all occurred in 10 g group, there was no significant difference in the incidence of postoperative complications, including infectious complications and coagulation related complications. Follow-up to date, there were 25 cases, 29 cases and 29 cases of tumor recurrence and metastasis in the three groups, but no statistical difference observed. The present findings show that the POTTS transfusion system is more advantageous with regard to save blood and relieve economic burdens of patients, and does not affect the long-term recurrence and metastasis rate of malignant tumor.