01.11.2010 | Technical Innovations | Ausgabe 11/2010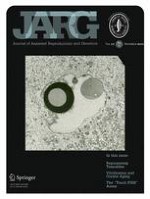 Application of touch FISH in the study of mosaic tetraploidy and maternal cell contamination in pregnancy losses
Zeitschrift:
Autoren:

Sofia Dória, Vera Lima, Berta Carvalho, Maria Lina Moreira, Mário Sousa, Alberto Barros, Filipa Carvalho
Wichtige Hinweise
Capsule
Touch FISH as an effective approach for the study of pregnancy losses with maternal cell contamination or with mosaic tetraploid cells present in the karyotype.
Abstract
Purpose
Karyotype is a well established technique in the study of spontaneous miscarriages but is associated with selective overgrowth of maternal cells and other culture artefact (spp) such as tetraploidy, which could mask the true karyotype of the conceptus.
Methods
328 cases of pregnancy losses were studied by karyotype and Multiplex Ligation Dependent Probe Amplification technique. Touch FISH performed in non-cultured cells was used to evaluate the ploidy complement and sex discrepancies using centromeric probes for chromosomes X, Y and 18.
Results
Touch FISH confirmed 13 cases of maternal contamination, identified a triploidy and a monosomy X. True tetraploidy was confirmed in 7/14 cases studied.
Conclusion
Touch FISH protocol is extremely accurate in the distinction of genuine mosaicism from tissue culture artifacts namely in cases with suspicion of tetraploidy and can be used to confirm maternal cell contamination in cases with sex discrepancy between karyotype and MLPA.