01.12.2017 | Research article | Ausgabe 1/2017 Open Access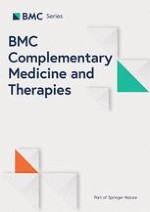 Appraisal of phytochemical and in vitro biological attributes of an unexplored folklore:
Rhus Punjabensis

Stewart
Zeitschrift:
Autoren:

Saira Tabassum, Madiha Ahmed, Bushra Mirza, Muhammad Naeem, Muhammad Zia, Zabta Khan Shanwari, Gul Majid Khan
Abstract
Background
The role of plants for discovery of therapeutic potential accentuates the need to know their biological attributes. The present study aims to comprehend the biological attributes of
Rhus punjabensis,
an unexplored traditional medicinal plant.
Methods
Leaf and stem extracts of
R. punjabensis
prepared in 11 different organic solvents are evaluated for multimode antioxidant potential, total phenolic and flavonoid contents were determined through colorimetric assays, HPLC-DAD analysis was carried out for quantification of various polyphenols in extracts. Brine shrimp lethality, SRB and MTT assays were used to elucidate plant's cytotoxic and antileishmanial potentials. Disc diffusion assay was used to elucidate the protein kinase inhibitory, antibacterial and antifungal spectrum.
Results
Ethanol + ethyl acetate yielded maximum extract recovery from leaf (6.11 ± 1.09% w/w), total phenolic content (80.5 ± 2.18 μg GAE/mg extract) and reducing power potential (165.4 ± 2.29 μg AAE/mg extract). Maximum flavonoid content (30.50 ± 1.11 μg QE/mg extract) and highest DPPH based free radical scavenging activity (IC
50
11.4 ± 2.07) was exhibited by the methanol + chloroform leaf extract. The methanol extract showed maximum total antioxidant capacity (74.5 ± 2.25 μg AAE/mg DW), protein kinase inhibitory (12.5 ± 1.10 bald phenotype at 100 μg/disc) and antifungal (MIC = 25 μg/disc against
Aspergillus flavus
) potential. Reverse phase HPLC-DAD based quantification reveals presence of gallic acid, apigenin, rutin and catechin in various extracts. Brine shrimp lethality assay demonstrated most extracts as highly cytotoxic (LC
50
 < 50 μg/mL) whereas chloroform extract of leaf demonstrated maximuminhibition against human leukemia cell line (IC
50
7.80 ± 0.01 μg/mL). A significant activity against leishmanial promastigotes was demonstrated by n-hexane leaf extract (IC
50
 = 15.78 ± 0.15 μg/mL). A better antibacterial activity,by the extracts, against Gram positive strains as compared to Gram negative was observed.
Conclusions
Results recommend multiple-solvent system as a critical factor to sumptuous the biological prospective of
R. punjabensis
and propose it to be a useful natural hub for the discovery of novel antioxidant, anticancer, antileishmanial and antimicrobial agents.