01.12.2017 | Research article | Ausgabe 1/2017 Open Access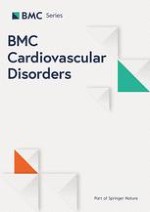 Approach selection of radiofrequency catheter ablation for ventricular arrhythmias originating from the left ventricular summit: potential relevance of Pseudo Delta wave, Intrinsicoid deflection time, maximal deflection index
Zeitschrift:
Autoren:

Cheng Zheng, Jin Li, Jia Li, De-Pu Zhou, Xiao-Wei Li, Shu-Jie Wu, Jia-Feng Lin
Abstract
Background
Ventricular arrhythmias (VAs) originating from the left ventricular summit is a challenge for radiofrequency catheter ablation (RFCA). The present study aimed to investigate the appropriate RFCA strategy for VAs originating from the left ventricular summit.
Methods
Forty-five consecutive patients with VAs arising from the left ventricular summit were successfully ablated at our cardiac electrophysiology center and reviewed in the study.
Results
Thirty-two cases of VAs were eliminated in the left ventricular endocardium by retrograde transaortic (
n
= 22, 22/45, 48.9%) or antegrade transseptal (
n
= 10, 10/45, 22.2%) approaches, the other 13 cases were eliminated in the left ventricular epicardium by distal great cardiac vein (DGCV) approach (
n
= 13, 13/45, 28.9%). Though these VAs were similar in electrocardiographic (ECG) morphology, the pseudo delta waves (PDW), intrinsicoid deflection time (IDT), maximal deflection index (MDI) differed among them, PDW >53 ms, IDT > 74 ms, MDI > 0.45 strongly indicated that ablating left ventricular summit VAs by DGCV approach. During mean follow-up of 19.5 ± 13.2 (range, 3-60) months, 2 (4.4%) patients experienced VAs recurrence.
Conclusion
This retrospective study showed that VAs of left ventricular summit origin can be effectively cured with RFCA. For these VAs, prolonged PdW, IDT, MDI indicating RFCA by DGCV approach can be attempted firstly.