01.12.2017 | Research article | Ausgabe 1/2017 Open Access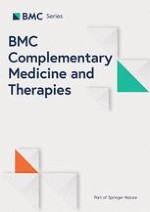 Aqueous extract of
Peperomia pellucida

(L.) HBK accelerates fracture healing in Wistar rats
Zeitschrift:
Autoren:

Ngueguim Tsofack Florence, Sakouong Talle Suewellyne Huguette, Donfack Jean Hubert, Gounoue Kamkumo Raceline, Dzeufiet Djomeni Paul Desire, Kamtchouing Pierre, Dimo Theophile
Abstract
Background
Peperomia pellucida
(L.) HBK is consumed as vegetable and used in Cameroonian traditional medicine for the management of diseases and for fracture healing. Therefore the aim of this study was to evaluate the effects of the aqueous whole plant extract of
Peperomia pellucida
on fracture healing in female Wistar rats.
Methods
A drill hole injury was created by inserting a drill bit inthe diaphysis of the femur. The aqueous extract of the whole plant of
Peperomia pellucida
was administered orally at the doses of 100, 200 and 400 mg/kg to adult female Wistar rats. The vehicle (distilled water) was given to the control. Besides these rats, one group of rats without fracture received the extract (400 mg/kg). After 14 days of treatment, the rats were sacrificed under anesthesia and the effects of the extract were evaluated on body weight, the relative weights of organs (femurs, uteri and ovaries) and on hematology. Bone (calcium, phosphorus, alkaline phosphatase) and serum biochemical parameters (calcium, phosphorus, alkaline phosphatase) were also evaluated. Radiological and histological tests were carried out on the femurs. The mineral content of the plant extract was also investigated.
Results
The extract induced an increase in body weight at high dose and in WBCs count at low doses. Aqueous extract from
Peperomia pellucida
increased bone calcium at lowest dose but maintained this parameter at normal range at high dose in fractured rat. Alkaline phophatase and phosphorus concentrations reduced significantly (
p
< 0.01) at the dose of 400 mg/kg as compared to fractured rats. Moreover, radiological tests revealed a dose dependent formation of callus at the level of the fracture gap, confirmed by the formation of a highly dense and compact fibrocartilagenous callus. The mineral content of the plant extract revealed the presence of calcium, phosphorus, magnesium, sodium and potassium.
Conclusion
The aqueous extract of
P. pellucida
accelerates bone healing due partly to the mineral content of the extract. These results confirm its traditional use in the treatment of bone fractures.