01.03.2012 | Head and Neck | Ausgabe 3/2012 Open Access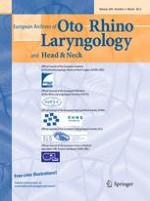 Are all prognostic factors in parotid gland carcinoma well recognized?
Zeitschrift:
Autoren:

Dominik Stodulski, Boguslaw Mikaszewski, Czeslaw Stankiewicz
Abstract
The aim of his study was to assess the treatment results and prognostic factors in patients with parotid gland carcinoma. The material consisted of 109 patients treated surgically, with or without complementary radiotherapy, between 1978 and 2008 (follow-up at least 5-years). 5-year overall and disease-specific survival were observed in 57.0% of the patients and 5-year disease-free survival was achieved in 50.0%. Univariate analysis including ten clinical and pathological features to assess their prognostic value was done. Parapharyngeal space invasion, facial nerve palsy, and high grade of tumor malignancy were the factors with the highest influence on the treatment results, because their presence decreased the chance for recovery 9.8, 9.7, and 8.2 times, respectively. Histologically positive cervical lymph nodes and extraparenchymal extension were the other factors connected with poor prognosis (prognosis worse 6.7 and 5.4 times, respectively). Clinically positive cervical lymph nodes, positive/uncertain microscopic margin, involvement of the deep lobe, or the whole gland increased the risk of treatment failure 3.4, 3.1, and 2.8, respectively. The age ≥60 years and male gender were statistically significant factors, correlated with poor prognosis and decreased chance for recovery 2.4 and 2.6 times. T-status and clinical stage had important influence on 5-year disease-free survival rate because there were significant differences in the treatment results between individual stages. Multivariate analysis proved that the independent prognostic value, among anatomic structures involved by the neoplasm, had mandible, facial nerve, and skin infiltration. Among tumor-related factors, T-stage and grade had the statistically significant influence on treatment results, and stage and lymph nodes metastases among clinical and pathological features. These results confirm the value of actually used TNM classification (2002). Although the parapharyngeal space invasion is a factor, which seems to have a significant, poor prognostic value, it was not included in this classification.