27.04.2017 | Autoimmune, Cholestatic, and Biliary Diseases (S Gordon and C Bowlus, Section Editors) | Ausgabe 2/2017 Open Access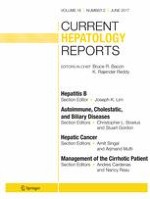 Are Dominant Strictures in Primary Sclerosing Cholangitis a Risk Factor for Cholangiocarcinoma?
Zeitschrift:
Autoren:

Roger W Chapman, Kate D. Williamson
Wichtige Hinweise
This article is part of the Topical Collection on
Autoimmune, Cholestatic, and Biliary Diseases
Introduction
Primary sclerosing cholangitis (PSC) is a rare, progressive, cholestatic liver disease characterised by inflammation, stricturing and obliterative fibrosis of the biliary system, ultimately leading to biliary cirrhosis, portal hypertension and eventually hepatic failure in the majority of patients [
1
]. The clinical course of large duct PSC is highly variable and unpredictable [
1
,
2
]. Whilst the median survival from presentation to death or liver transplantation in symptomatic patients is approximately 10 to 12 years, 75% of asymptomatic patients will survive 15 years or more. A recent Dutch study has shown an overall median survival of 22 years in an unselected population of PSC patients [
3
].
In the past, the majority of patients with PSC died of hepatic failure following deepening, cholestatic jaundice. However, over the last 20 years with the advent of successful transplantation, the majority (40–50%) of patients with large duct PSC die of malignancy, either hepatobiliary (cholangiocarcinoma, gall bladder cancer or hepatoma in cirrhotic patients) or colonic adenocarcinoma in PSC patients with associated inflammatory bowel disease (IBD) [
4
]. The reason for the high malignancy rate is probably explained by chronic inflammation in the biliary system and the colon, although whether PSC patients have a particular genetic susceptibility to develop cancer is unclear.
It is apparent that, despite the strong association with non-smoking, large duct PSC is a premalignant disease. In contrast, small duct PSC has not been associated with an increased risk of either biliary or colonic neoplasia and has a much better prognosis [
5
].
Hepatobiliary Cancer
As stated above, approximately 5 to 15% of patients with large duct PSC die from the development of bile duct carcinoma, which often follows a very aggressive course [
6
–
8
]. Approximately 0.5 to 1.0% of patients with large duct PSC will develop cholangiocarcinoma (CCA) or gall bladder cancer every year [
8
].
Unfortunately, at present, there are no factors that will predict which patients will develop this cancer. Tumour markers such as carcinogenic embryonic antigen (CEA) and carbohydrate antigen 19-9 (CA 19-9) have been investigated as potential serum markers of the development of bile duct cancer in PSC. Although some centres have found elevations in serum CA 19-9 a useful predictor, these results have not been confirmed in other units [
8
].
The median survival after the diagnosis of cholangiocarcinoma in PSC is only 9–12 months, although liver transplantation after chemotherapy is possible in selected patients with small tumours (<3.0 cm) and no evidence of metastatic disease [
3
,
9
]. In this highly selected group, the survival is comparable with PSC without cholangiocarcinoma, viz. a 65–80% 5-year survival post transplantation [
10
,
11
]. In PSC patients who are found to have unsuspected bile duct cancers at the time of liver transplantation, there is an approximately 35% 5-year survival [
12
]. Thus, there is clearly an unmet need to identify subgroups of PSC patients at particular high risk of developing cholangiocarcinoma, where heightened surveillance may be helpful in identifying cholangiocarcinoma at an early treatable stage.
Dominant Strictures in PSC
Patients with large duct PSC may develop progressive jaundice, worsening of their liver biochemistry, or symptoms of cholangitis, prompting investigation for a dominant stricture (DS). A DS in PSC is defined cholangiographically as a stricture less than 1.5-mm diameter in the common bile duct, or less than 1 mm in the left or right main hepatic ducts [
13
]. (See Fig.
1
.)
×
Approximately 10–62% of patients with PSC will develop a DS at some stage in their disease [
14
••,
15
]. The development of dominant bile strictures in PSC has been associated with CD14 receptor signalling. CD14 is known to be a key mediator of the innate immune system, and its common genetic variant has been associated with the development of both alcoholic liver disease and non-alcoholic steatohepatitis [
16
,
17
]. The variant CD14-260C>T polymorphism was associated with the development of DS and an increased risk of cholangitis. It appears from this data that the innate immune response may be important during biliary stricture formation [
18
].
The importance of genetic factors in the development of DS in PSC was further emphasised by a recent genome-wide association study which identified the FUT2 secretor status and genotype, the single-nucleotide polymorphism rs601338, as a potential genetic risk factor in PSC, which significantly influences biliary bacterial composition [
19
]. Presence of this genotype in PSC has been strongly associated with episodes of cholangitis, fungobilia and the incidence of dominant stenosis [
20
•].
The Effect of Dominant Stricture on Prognosis and the Risk of Cholangiocarcinoma
Dilatation of Dominant Strictures and Possible Reduction of Cancer Risk
If symptomatic, dominant strictures should be dilated with endoscopic balloon dilatation via endoscopic retrograde cholangiopancreatography (ERCP) and may often require multiple dilatations over time. Occasionally, temporary stent insertion is required. Current evidence is conflicting as to whether temporary stenting after balloon dilatation offers any extra benefit, and a randomised multicentre European trial is in progress to address this issue [
24
].
Antibiotics, such as quinolones, should be administered in the setting of acute cholangitis related to a DS, and prophylactic antibiotics, such as low-dose ciprofloxacin, are sometimes required in the clinical setting of recurrent cholangitis. As discussed previously, a DS may be benign or represent the presentation of cholangiocarcinoma, the latter being notoriously difficult to diagnose. The explanation for the high rate of malignancy is probably related, in part, to chronic inflammation secondary to biliary obstruction, as cholangiocarcinoma also develops in patients with secondary sclerosing cholangitis. It follows, therefore, that effective dilatation of dominant strictures relieving the obstruction to bile flow should reduce chronic inflammation and the cancer risk.
Some support for this hypothesis comes from a long-term study from Germany, already described above [
15
,
22
••]. From the group of 171 patients followed over 20 years, only 8 patients developed a biliary tract cancer, which is below the predicted level. However, the study was uncontrolled, and further studies are required to confirm this.
Surveillance for Development of Cholangiocarcinoma in Dominant Strictures in PSC
Conclusion
There is an unmet need to identify subgroups of PSC patients at particular high risk of developing cholangiocarcinoma, where heightened surveillance may be helpful in identifying cholangiocarcinoma at an early treatable stage. There is an increasing body of evidence that even when the stricture(s) is proven to be benign, dominant biliary strictures predispose to the future development of cholangiocarcinoma in patients with PSC. Additionally, PSC patients with associated IBD may be at particularly high risk. Currently, there is no proven beneficial form of surveillance strategy for cholangiocarcinoma, and studies are ongoing to address this issue.
Compliance with Ethical Standards
Conflict of Interest
Roger W. Chapman and Kate D. Williamson each declare no potential conflicts of interest.
Human and Animal Rights and Informed Consent
This article contains no studies with human or animal subjects performed by any of the authors.
Open Access
This article is distributed under the terms of the Creative Commons Attribution 4.0 International License (http://creativecommons.org/licenses/by/4.0/), which permits unrestricted use, distribution, and reproduction in any medium, provided you give appropriate credit to the original author(s) and the source, provide a link to the Creative Commons license, and indicate if changes were made.