01.12.2014 | Research article | Ausgabe 1/2014 Open Access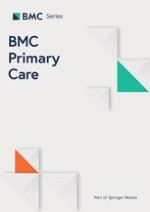 Are lower urinary tract symptoms in men associated with cardiovascular diseases in a primary care population: a registry study
Zeitschrift:
Autoren:

Inge I Bouwman, Boudewijn J Kollen, Klaas van der Meer, Rien JM Nijman, Wouter K van der Heide
Wichtige Hinweise
Inge I Bouwman, Boudewijn J Kollen and Wouter K van der Heide contributed equally to this work.
Competing interests
The authors declare that they have no competing interests.
Authors' contributions
IIB: carried out the analysis and interpretation of data, and drafted the manuscript. BJK caried out the analysis and performed the statistical analysis, and helped to draft the manuscript. WK, KM, and JMN participated in the study design and coordination. WK helped to draft the manuscript and made contributions to conception and design of the study. All authors read and approved the final manuscript.
Abstract
Background
Although lower urinary tract symptoms (LUTS) seem to be related to cardiovascular disease (CVD) in men, it is unclear whether this relationship is unbiased. In order to investigate this relationship, we used longitudinal data for establishing the possible predictive value of LUTS for the development of CVD in a primary care population.
Methods
We performed a registry study using data from the Registration Network Groningen (RNG). All data from men aged 50 years and older during the study period from 1 January 1998 up to 31 December 2008 were collected. Cox proportional hazard regression analysis was used to determine the association between the proportions of CVD (outcome) and LUTS in our population.
Results
Data from 6614 men were analysed. The prevalence of LUTS increased from 92/1000 personyears (py) in 1998 up to 183/1000 py in 2008. For cardiovascular diseases the prevalence increased from 176/1000 py in 1998 up to 340/1000 py in 2008. The incidence numbers were resp. 10.2/1000 py (1998) and 5.1/1000 py (2008) for LUTS, and 12.9/1000 py (1998) and 10.4/1000 py (2008) for CVD. Of all men, 23.2% reported CVD (41.1% in men with LUTS vs 19.5% in men without LUTS, p < 0.01). The hazard ratio of LUTS for cardiovascular events, compared to no LUTS, in the adjusted multivariate model, was 0.921(95% CI: 0.824 - 1.030; p = 0.150).
Conclusion
Based on the results, LUTS is not a factor that must be taken into account for the early detection of CVD in primary care.