01.03.2012 | Clinical Research | Ausgabe 3/2012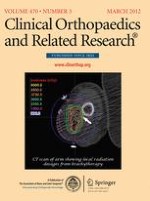 Are Patient-specific Cutting Blocks Cost-effective for Total Knee Arthroplasty?
Zeitschrift:
Autoren:

MD Ryan M. Nunley, MD Bradley S. Ellison, MS Erin L. Ruh, DC Brandon M. Williams, RN, BS, CNOR Keith Foreman, MPH Adrienne D. Ford, MD Robert L. Barrack
Wichtige Hinweise
One author (RMN) is a paid consultant for Smith & Nephew Orthopaedics (Memphis, TN, USA), Wright Medical Technology Inc (Arlington, TN, USA), Salient Surgical Technologies Inc (Portsmouth, NH, USA), and CardioMEMS Inc (Atlanta, GA, USA). One author (RLB) has received royalties from Smith & Nephew Orthopaedics. Each of the remaining authors certifies that he or she, or a member of his or her immediate family, has no commercial associations (eg, consultancies, stock ownership, equity interest, patent/licensing arrangements, etc) that might pose a conflict of interest in connection with the submitted article.
All ICMJE Conflict of Interest Forms for authors and
Clinical Orthopaedics and Related Research
editors and board members are on file with the publication and can be viewed on request.
Clinical Orthopaedics and Related Research
neither advocates nor endorses the use of any treatment, drug, or device. Readers are encouraged to always seek additional information, including FDA approval status, of any drug or device before clinical use.
Each author certifies that his or her institution approved this investigation and that all investigations were conducted in conformity with ethical principles of research.
This work was performed at Washington University.
Abstract
Background
Using patient-specific cutting blocks for TKA increases the cost to the hospital for these procedures, but it has been proposed they may reduce operative times and improve implant alignment, which could reduce the need for revision surgery.
Questions/purposes
We compared TKAs performed with patient-specific cutting blocks with those performed with traditional instrumentation to determine whether there was improved operating room time management and component coronal alignment to support use of this technology.
Methods
We retrospectively reviewed 57 patients undergoing primary TKAs using patient-specific custom cutting blocks for osteoarthritis and compared them with 57 matched patients undergoing TKAs with traditional instrumentation during the same period (January 2009 to September 2010). At baseline, the groups were comparable with respect to age, sex, and BMI. We collected data on operative time (total in-room time and tourniquet time) and measured component alignment on plain radiographs.
Results
On average, TKAs performed with patient-specific instrumentation had similar tourniquet times (61.0 versus 56.2 minutes) but patients were in the operating room 12.1 minutes less (137.2 versus 125.1 minutes) than those in the standard instrumentation group. We observed no difference in the femorotibial angle in the coronal plane between the two groups.
Conclusions
Patient-specific instrumentation for TKA shows slight improvement in operating room time management but none in component alignment postoperatively. Therefore, routine use of this new technology may not be cost-effective in its current form.
Level of Evidence
Level III, therapeutic study. See Guidelines for Authors for a complete description of levels of evidence.