01.12.2018 | Research article | Ausgabe 1/2018 Open Access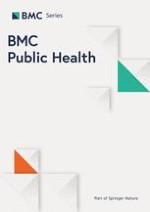 Are perceptions of community safety associated with respiratory illness among a low-income, minority adult population?
Zeitschrift:
Autoren:

Kristen N. Arthur, Rhonda Spencer-Hwang, Synnøve F. Knutsen, David Shavlik, Samuel Soret, Susanne Montgomery
Wichtige Hinweise
Electronic supplementary material
Abbreviations
CBPR
Community-based participatory research
COPD
Chronic obstructive pulmonary disease
ENRRICH Project
Environmental Railyard Research Impacting Community Health Project
HMO
Health maintenance organization
Background
Methods
Study population
The ENRRICH Project was conducted in 2011–2012 by Loma Linda University (LLU) researchers and a local community partner organization (Center for Community Action and Environmental Justice), using community-based participatory methods to reach the hard-to-access, low income, predominantly Latino population living near the San Bernardino Railyard (SBR). The purpose was to characterize the community health burden of disease in the residential areas near the SBR, an inland goods movement network with routine, severe ambient air pollution problems. To account for the seasonal variation in local air quality, ENRRICH investigators conducted two cross-sectional waves of data collection, one in the summer of 2011 and a second wave in the winter-spring of 2012.
Three sampling regions (A, B, and C) surrounding the SBR were surveyed using a community-based participatory research (CBPR) approach; a CBPR approach incorporates (in our case) carefully trained community members alongside research investigators (who are often academic) during development, administration, and analysis of a study/project. The survey data were collected from adults (ages 18 years and older) present in the household at the time of survey. The location and spatial configuration of the sampling regions are depicted in Fig.
1
. The three regions were designed to model decreasing levels of air pollution exposure (derived through computer-based air dispersion modeling based on the California Air and Resource Board's Health Risk Assessment) in relation to the railyard, from highest (A) to lowest (C). We will refer to these three sampling or residential regions as environmental hazard regions.
×
Region A was defined by delineating a 350-m buffer around the perimeter of the railyard facility and every house within region A was considered for interviewing. Within sampling regions B and C, households were randomly selected - ENRRICH investigators used digital street and cadastral maps of the target neighborhoods and assigned households for interviews using a GIS-based random number generator tool. Sampling methodology with regards to air dispersion modelling is discussed more in depth elsewhere [
35
]. For safety reasons, interviewing was conducted only during daylight hours; this included early evenings and weekends. There were 965 complete interviews (300 in region A, 338 in region B, 324 in region C) and 792 had complete information for all analyzed variables thus constituting our analytic study population (215 in region A, 289 in region B, 288 in region C).
Survey
LLU investigators utilized a CBPR approach to the study design with a mixed methods research methodology to develop the survey instrument. To gather information in a culturally competent and linguistically-appropriate manner, the survey instrument was developed based on mixed methods research exploring the perceived needs and challenges of the affected population, as well as from existing literature. The process included internal technical discussions with the community-based partners and direct community feedback in the form of in depth key informant interviews and focus groups. This mixed-methods process helped to identify relevant questions (from both scientific and community perspectives) to incorporate into the survey, such as lived experiences as well as attitudes and perceptions regarding the health impacts from residential proximity to the SBR and is reported elsewhere [
39
].
Once developed, the survey was translated to Spanish and pilot tested. It consists of several sections including questions pertaining to demographics, description of household socioeconomic status, history of doctor-diagnosed illnesses, respiratory symptoms, hearing impairment, use of medications, health care utilization, occupational and residential histories, smoking status/history, indoor sources of air pollution, and perceptions of their community (Additional file
1
). Survey administration, in a personal interview format to address low reading levels, was delivered by trained, bi-lingual community health workers (as part of our CBPR approach) from the study's local community partner, a non-profit environmental justice organization [
40
].
The research study was approved by Loma Linda University Institutional Review Board (IRB #5110054). All participants provided informed written consent prior to participation in the study.
Perceived community safety stressor
The perceived community safety independent variable used in this paper is a construct created from two survey items pertaining to community safety on the ENRRICH household survey: "
I feel safe walking in my community, day or night.
" and "
Violence or crime is not a problem in my community.
" Participants responded on a 5-point Likert scale from strongly agree to strongly disagree. For ease of interpretation, responses to each of the two statements were dichotomized. A response of "disagree" or "strongly disagree" was considered as the exposure (i.e. lack of perceived community safety as the exposure). We then created a dichotomous perceived community safety construct variable to capture any perception of lack of community safety. The exposed category was defined as responding "disagree" or "strongly disagree" to either one of the above two statements.
Respiratory illness outcomes
Two respiratory health endpoints were assessed in this study: self-reported doctor-diagnosed respiratory illness and self-reported chronic respiratory symptoms. Both outcome variables were created constructs from the ENRRICH household survey.
The self-reported doctor-diagnosed respiratory illness outcome was created from survey questions that asked if the participant ever had a doctor-diagnosis of asthma, a bronchial condition, emphysema, or chronic obstructive pulmonary disease (COPD). Pilot testing indicated that some respondents had low health care literacy and did not clearly understand the term "diagnosis." For this reason, use of an inhaler ("
Do you use a physician-prescribed inhaler?
") was asked to determine if there were participants who were prescribed medication for respiratory conditions, but said "no" to ever being diagnosed with a chronic respiratory illness. Participants were counted as a respiratory illness case if they had replied "yes" to any one of the respiratory illnesses or to use of a prescribed inhaler.
Because some participants may not have been diagnosed yet with a respiratory illness due to low-income status and/or limited health care access, we also included self-reported respiratory symptoms as an outcome for analysis among the subset of the participants who did not report a respiratory illness. The self-reported chronic respiratory symptoms outcome includes current chronic coughing and current chronic mucus (defined as having the symptom "
on most days for three months or more out of the year
"), and ever having wheezing not due to a cold. Participants responded a dichotomous yes/no to these questions. Participants were counted as a respiratory symptoms case if they had replied "yes" to any one of the three symptoms.
Statistical analyses
For descriptive statistics, we computed frequencies for categorical variables and mean and standard deviation for continuous variables (i.e. age). For bivariate associations, we computed chi-square tests for categorical variables and a two-sample t-test for the variable age, which was normally distributed.
We studied the association between perceived lack of community safety stressors and the outcomes (respiratory illness and respiratory symptoms constructs) using multivariable log-binomial regression models which allowed for the calculation of prevalence ratios (PR) and 95% confidence intervals (95% CI) [
41
]. Covariates were a priori selected based on relevance in the literature and availability within the ENRRICH dataset. The minimally-adjusted model included risk factors of the respiratory disease outcome [
42
–
45
]: age, gender (male, female), race/ethnicity (Hispanic/Latino; black/African-American; white, Asian, other), smoking status (currently, past, never), having lived with a smoker for more than six months as an adult (currently, past, never), duration at current residence (< 1 year, 1–10 years, ≥ 11 years), and environmental hazard exposure region (A, B, C). In addition to the minimally-adjusted model variables, the final model added the following individual-level socio-economic status variables: health care insurance (none; private, blue cross, HMO, military or other; Medicare, Medicaid, or Medi-cal), employment status (unemployed; part-time employed, full-time employed, retired or student), and number of people living at the current residence (1–2 people, 3–5 people, ≥ 6 people).
We chose not to collapse the covariate duration at current residence for less than one year, despite a small count, to reflect a possible biological effect, but interpreted statistics for duration at current residence with caution. Education was not included as a covariate because of its high correlation with unemployment, insurance, and number in household; in addition, adding education to the model did not change the precision of model and did not statistically confound the relationship between the respiratory illness outcome and community safety variable. We considered income as a potential confounder but chose to not include it in the full multi-variable models due to its high number of missing (
n
 = 93 missing). To assess its affect in the full multi-variable model, we conducted a sensitivity analysis with income in the full model and found that the main effect between respiratory illness and perceived community safety did not change.
To further describe the association between perceived community safety and respiratory illness, we conducted sensitivity and effect modification analyses by region. Sensitivity analyses included region specific analyses using the same multivariable models stated above. Results are interpreted with caution due to smaller sample sizes. Our effect modification analyses tested multiplicative interaction between the perceived community safety construct and environmental hazard region within the multivariable fully-adjusted model with respiratory illness construct as the outcome. Environmental hazard region was included into the models as a nominal (A, B, and C) and dichotomous (A/B and C) variable. The choice to collapse regions A and B was to keep the regions closer to the freight railyard together in comparison to region C, which is the region on the edge of the metropolitan San Bernardino city area.
In our last sensitivity analysis, we tested the association between perceived community safety and respiratory symptoms construct only among the subgroup of individuals who did not report a respiratory illness. SAS version 9.4 was used for all analyses.
Results
Discussion
Conclusions
In conclusion, when living in a low-income community near a goods movement network with high exposure to diesel emission and in a region with routine poor air quality, the added psychosocial stressor of perceiving your residential community as unsafe increases the likelihood of having a doctor diagnosed chronic respiratory illness. Our finding further supports that when trying to elucidate the effect of air pollution on respiratory health, public health professionals and policy makers must take into account a communities' social, as well as environmental risk, context.
Acknowledgements
In memorial: Dr. Samuel Soret 1962 – 2016.
Samuel Soret, PhD, MPH, Associate Dean for Research and Executive Director of the Center for Community Resilience at Loma Linda University School of Public Health and a Co-Principal Investigator on this research passed away on 23 August 2016 from a heart attack while on a trip in his home-country of Spain. Dr. Soret faithfully served the School of Public Health for 21 years and lived his motto: "Compassion must fuel everything we do."
Funding
This research was funded by the South Coast Air Quality Management District/BP West Coast Products Oversight Committee, LLC, grant # 659005 and also supported by National Institutes of Health #1P20MD006988. The funding bodies for our research did not have any role in the study design, collection, analysis, interpretation, or in writing the manuscript.
Availability of data and materials
The data generated and analyzed during the current study are available from the principle investigator, smontgomery@llu.edu, on reasonable request.
Ethics approval and consent to participate
The research study was approved by Loma Linda University Institutional Review Board (IRB #5110054). All participants provided informed written consent prior to participation in the study.
Consent for publication
Not applicable.
Competing interests
The authors declare that they have no competing interests.
Publisher's Note
Springer Nature remains neutral with regard to jurisdictional claims in published maps and institutional affiliations.
Open Access
This article is distributed under the terms of the Creative Commons Attribution 4.0 International License (
http://​creativecommons.​org/​licenses/​by/​4.​0/​
), which permits unrestricted use, distribution, and reproduction in any medium, provided you give appropriate credit to the original author(s) and the source, provide a link to the Creative Commons license, and indicate if changes were made. The Creative Commons Public Domain Dedication waiver (
http://​creativecommons.​org/​publicdomain/​zero/​1.​0/​
) applies to the data made available in this article, unless otherwise stated.