01.12.2015 | Research article | Ausgabe 1/2015 Open Access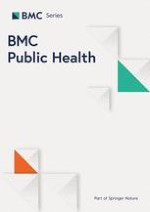 Are physical activity studies in Hispanics meeting reporting guidelines for continuous monitoring technology? A systematic review
Zeitschrift:
Autoren:

Charles S. Layne, Nathan H. Parker, Erica G. Soltero, José Rosales Chavez, Daniel P. O'Connor, Martina R. Gallagher, Rebecca E. Lee
Wichtige Hinweise
Competing interests
The authors declare that they have no competing interests.
Authors' contributions
CSL, REL, and DPO conceived of the study and participated in its design and coordination. CSL, NHP, EGS, and JRC participated in literature review and article coding. NHP and EGS pooled and analyzed data from coded articles. CSL, NHP, EGS, JRC, MRG, and REL helped to draft the manuscript. All authors read and approved the final manuscript.
Authors' information
Not applicable
Availability of data and materials
Not applicable
Abstract
Background
Continuous monitoring technologies such as accelerometers and pedometers are the gold standard for physical activity (PA) measurement. However, inconsistencies in use, analysis, and reporting limit the understanding of dose–response relationships involving PA and the ability to make comparisons across studies and population subgroups. These issues are particularly detrimental to the study of PA across different ethnicities with different PA habits. This systematic review examined the inclusion of published guidelines involving
data collection
,
processing
, and
reporting
among articles using accelerometers or pedometers in Hispanic or Latino populations.
Methods
English (PubMed; EbscoHost) and Spanish (SCIELO; Biblioteca Virtual en Salud) articles published between 2000 and 2013 using accelerometers or pedometers to measure PA among Hispanics or Latinos were identified through systematic literature searches. Of the 253 abstracts which were initially reviewed, 57 met eligibility criteria (44 accelerometer, 13 pedometer). Articles were coded and reviewed to evaluate compliance with recommended guidelines (
N
 = 20), and the percentage of accelerometer and pedometer articles following each guideline were computed and reported.
Results
On average, 57.1 % of accelerometer and 62.2 % of pedometer articles reported each recommended guideline for
data collection
. Device manufacturer and model were reported most frequently, and provision of instructions for device wear in Spanish was reported least frequently. On average, 29.6 % of accelerometer articles reported each guideline for
data processing
. Definitions of an acceptable day for inclusion in analyses were reported most frequently, and definitions of an acceptable hour for inclusion in analyses were reported least frequently. On average, 18.8 % of accelerometer and 85.7 % of pedometer articles included each guideline for
data reporting
. Accelerometer articles most frequently included average number of valid days and least frequently included percentage of wear time.
Discussion
Inclusion of standard collection and reporting procedures in studies using continuous monitoring devices in Hispanic or Latino population is generally low.
Conclusions
Lack of reporting consistency in continuous monitoring studies limits researchers' ability to compare studies or draw meaningful conclusions concerning amounts, quality, and benefits of PA among Hispanic or Latino populations. Reporting data collection, computation, and decision-making standards should be required. Improved interpretability would allow practitioners and researchers to apply scientific findings to promote PA.