01.03.2006 | Original Investigation | Ausgabe 1/2006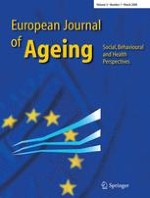 Are public care and services for older people targeted according to need? Applying the Behavioural Model on longitudinal data of a Swedish urban older population
Zeitschrift:
Autoren:

Kristina Larsson, Mats Thorslund, Ingemar Kåreholt
Abstract
The objectives were to identify factors that predict the use of home help services and transition into institutional care and to study to what extent care services were targeted according to the individuals' needs. A further objective was to study whether people who had moved into institutional care facilities had received home help prior to institutionalisation. A community-dwelling sample (
n
=502) aged 81–100 was twice interviewed and assessed with medical examinations. Their use of public elderly care between 1994/1996 and 2000 was studied using survival analyses.
Need factors
, according to the Andersen Behavioural Model, were the most important predictors for the use of elderly care. Among people living alone, dementia, functional limitations, and depressive symptoms predicted the use of home help services and institutionalisation. Among non-demented cohabiting people, depressive symptoms and dependence in ADLs increased the likelihood of both home help and institutionalisation. Among cohabiting people with dementia, the effect of dementia was difficult to separate from the effects of ADL limitations and depression.
Enabling factors
were of importance among cohabiting people. A high level of education increased the likelihood of moving into institutional care, and informal extra-residential care increased the likelihood of both outcomes indicating that elderly care resources had not been targeted solely according to need.
Predisposing factors
such as age and gender were of importance only among people living alone. Basically the same factors predicted both the receipt of home help and institutionalisation. Only 4% of people living alone and 5% of those cohabiting moved to institutions without previously receiving home help.