01.12.2015 | Research article | Ausgabe 1/2015 Open Access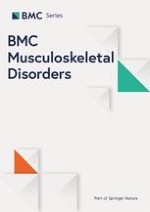 Are there differences between stemless and conventional stemmed shoulder prostheses in the treatment of glenohumeral osteoarthritis?
Zeitschrift:
Autoren:

Michael W. Maier, Sarah Lauer, Matthias C. Klotz, Matthias Bülhoff, David Spranz, Felix Zeifang
Wichtige Hinweise
Competing interests
The authors declare that they have no competing interests. All authors, their immediate family, and any research foundation with which they are affiliated did not receive any financial payments or other benefits from any commercial entity related to the subject of this article.
Authors' contributions
MM made the concept and design, and performed the acquisition of data, analysis and interpretation of data and wrote the manuscript. SL participated in data acquisition, interpretation of data, statistics and helped prepare the manuscript. MK made substantial contributions to data acquisition and interpretation from the institutional motion analysis laboratory. MB participated in data acquisition from the institutional motion analysis laboratory and statistics. DS participated in data acquisition, interpretation of data, and manuscript preparation. FZ performed the surgery, and participated in the interpretation of data. All authors read and approved the final manuscript.
Authors' information
Not applicable
Availability of data and materials
Not applicable
Abstract
Background
Conventional stemmed anatomical shoulder prostheses are widely used in the treatment of glenohumeral osteoarthritis. The stemless shoulder prosthesis, in contrast, is a new concept, and fewer outcome studies are available. Therefore, the purpose of the study was to investigate the early functional outcome and postoperative proprioception of a stemless prosthesis in comparison with a standard stemmed anatomic shoulder prosthesis.
Methods
Twelve patients (mean age 68.3 years [SD ± 5.4]; 5 female, 7 male) with primary glenohumeral osteoarthritis of the shoulder were enrolled, who underwent total shoulder arthroplasty (TSA) with a stemless total shoulder prosthesis, Total Evolution Shoulder System (TESS®; Biomed, France). The control group consisted of twelve (age and gender matched) patients (mean age 67.8 years; [SD ± 7.1]; 9 female, 3 male), getting a TSA with a standard anatomic stemmed prosthesis, Aequalis® Shoulder (Tournier, Lyon, France). Patients were examined the day before and six months after surgery. The pre- and postoperative Constant Score (CS) was evaluated and proprioception was measured in a 3D video motion analysis study using an active angle-reproduction (AAR) test.
Results
Comparing the postoperative CS, there was no significant difference between the groups treated with the TESS® prosthesis (48.0 ± 13.8 points) and the Aequalis® prosthesis (49.3 ± 8.6 points;
p
 = 0.792). There was no significant difference in postoperative proprioception between the TESS® group (7.2° [SD ± 2.8]) and the Aequalis® group(8.7° [SD ± 2.7];
p
 = 0.196), either. Comparison of in the results of CS and AAR test pre- and postoperatively showed no significant differences between the groups.
Discussion
In patients with glenohumeral osteoarthritis, treated with TSA, the functional and the proprioceptive outcome is comparable between a stemless and a standard stemmed anatomic shoulder prosthesis at early followup.
Conclusion
Further follow-up is necessary regarding the long-term performance of this prosthesis.
Trial registration
Current Controlled Trials
DRKS 00007528
. Registered 17 November 2014