01.12.2012 | Research article | Ausgabe 1/2012 Open Access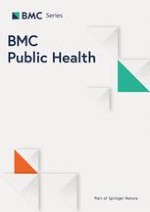 Arsenic exposure through drinking water increases the risk of liver and cardiovascular diseases in the population of West Bengal, India
Zeitschrift:
Autoren:

Nandana Das, Somnath Paul, Debmita Chatterjee, Nilanjana Banerjee, Niladri S Majumder, Nilendu Sarma, Tanmoy J Sau, Santanu Basu, Saptarshi Banerjee, Papiya Majumder, Apurba K Bandyopadhyay, J Christopher States, Ashok K Giri
Wichtige Hinweise
Competing interests
The authors declare that there exists no competing financial interest among any of the authors.
Authors' contributions
AKG and JCS planned, designed and wrote the final manuscript, ND and SP collected samples, performed experimental works and prepared manuscript draft, NB performed experimental works and wrote manuscript draft, DC and NSM collected samples and performed field works, NS, TJS, SB, PM, AKB performed epidemiological survey. All authors read and approved the final manuscript.
Abbreviations
GGT
γ-Glutamyl transpeptidase
MCL
Maximum contaminant level
MCP-1
Monocyte chemoattractant protein-1
TNFα
Tumor necrosis factor alpha.
Background
Methods
Chemicals
Ascorbic acid, acetone, nitric acid (69% GR), hydrochloric acid (35%), potassium iodide, sodium hydroxide, and sodium borohydride (96% pure) were obtained from Merck (Hohenbrunn, Germany). Arsenic (III) and arsenic (V) AAS (Atomic Absorption Spectrometry) standards were obtained from Qualigens (Shanon Co. Clare, Ireland). ELISA kits for ANA and anti-ds DNA were obtained from Calbiotech Inc. (Spring valley, CA, USA). Kits for estimation of ALT, AST,ALP, bilirubin, total protein and GGT were obtained from Randox laboratories limited (Antrim, United Kingdom). ELISA kits for IL6, IL8, and MCP-1 were obtained from Thermo Scientific (Pierce Biotechnologies, Rockford, USA).
Study site and study population
Murshidabad district is a highly contaminated district in West Bengal India. Here people are exposed to arsenic by drinking heavily contaminated ground water, which is much above the permissible limits laid by WHO [
2
]. In our epidemiological survey, we initially recruited a large number of participants, from which we selected those with the highest current exposure (as measured by arsenic concentration in water and urine) in Murshidabad district for the current study. Thus, 103 arsenic exposed individuals (both with and without skin lesions) were chosen while 107 unexposed individuals were chosen from arsenic unexposed East Midnapur district, of the same state, where arsenic in drinking water ranges between 3-10 μg/L. Individuals ranging from 15 to 78 years of age with at least 10 years of exposure were included as exposed study participants. Initially, four trained volunteers were sent to the villages for door-to-door survey to identify individuals with skin lesions among the villagers. All the villagers were requested to attend the medical camp irrespective of the presence of arsenic-induced skin lesions. An interview was performed using a structured questionnaire that elicited information about demographic factors, life-style, occupation, diet, tobacco usage, medical, and residential histories [
8
,
31
]. Detailed information on current and life time tobacco usage were obtained. Of the study population 10% were randomly re-interviewed in the field to verify the accuracy of the information provided. A team of physicians consisting of specialists in the fields of dermatology, neurology, ophthalmology and respiratory diseases, each with 15 years of experience examined the study participants. Samples were collected only from those subjects who provided informed consent to participate and fulfilled the inclusion criteria. Arsenic-exposed individuals and unexposed individuals were matched with respect to age, sex, and socio-economic status. Occupationally, the majority of the study participants were farmers and household workers. In general these population are from the rural Bengal and belongs to low income group. The arsenic exposed individuals show various non cancerous, precancerous and cancerous skin lesions which are hallmarks of chronic arsenic toxicity. The non-dermatological health outcomes include conjunctivitis, peripheral neuropathy and respiratory problems [
8
]. In the course of our study, we have found that the arsenic-exposed individuals are more susceptible to opportunistic infections, respiratory problems, fungal and parasitic infections. Our earlier studies revealed that these individuals had impaired macrophage functions and increased death of immune cells by apoptosis [
10
,
28
].
Since arsenic containing pesticides were not very common in these areas and arsenic mining was not done in this region, occupational exposure to arsenic was ruled out. Therefore, drinking water is the principle source of arsenic in this region. Water and urine samples were collected from the subjects on the same day, which carried code numbers. Information from questionnaire-sourced data on the subjects was not revealed before arsenic analyses were completed. This study was conducted in accord with the Helsinki II Declaration (
http://​www.​wma.​net/​e/​policy/​b3.​htm
) and approved by the Institutional Ethics Committee named "The Ethical Committee on Human Subjects, Indian Institute of Chemical Biology" dated April 26, 2010.
Physical examination of skin
A careful examination of skin was conducted under natural daylight to reveal the presence of typical arsenic-induced skin lesions including raindrop, hypo- and hyper-pigmentation, palmo- and planter-hyperkeratosis. Visible or palpable dermal lesions were documented. Physical examination of skin identified three types of cancerous lesions: squamous cell carcinoma, Bowen's disease and basal cell carcinoma. Two dermatologists with more than 15 years of experience in the relevant field, jointly diagnosed any "probable or doubtful" skin lesion. The cases that still remained doubtful were not considered. Arsenic-induced skin lesions served as a biological marker of arsenicosis. The dermatologists confirmed that the individuals without skin lesions did not develop arsenic-induced skin lesions even after prolonged arsenic exposure.
Analysis of arsenic in water and urine samples
All the study participants were provided with acid-washed [nitric acid–water (1:1)] polypropylene bottles for collection of drinking water (approximately 100 ml) into which nitric acid (1.0 ml/L) was added later as a preservative [
32
]. First morning voids (approx. 100 ml) were collected in precoded polypropylene bottles for arsenic estimation as these give the best measure of the recent arsenic exposure [
33
]. Immediately after collection, the samples were stored in salt–ice mixture and brought to the laboratory where they were kept at –20°C until estimation of arsenic was carried out. Flow injection–hydride generation–atomic absorption spectrometry was used for the determination of total arsenic in the collected samples. A Perkin-Elmer Model-Analyst 700 (Boston, MA, USA) spectrometer equipped with a Hewlett-Packard (Houston,TX, USA) Vectra computer with GEM software, Perkin-Elmer EDL System-2, arsenic lamp (lamp current 380 mA) was utilized for the purpose [
28
].
Isolation of serum from blood
Blood samples were collected by veinpuncture method. About 2 ml blood was stored aseptically in sterile 10 ml polypropylene tubes without any anti coagulant for serum collection. Care was taken to prevent any mechanical damage which might cause haemolysis of the blood. The tubes were allowed to stand in room temperature for few minutes and then put on ice and transferred to laboratory for further processing. Coagulated blood was centrifuged at 3000 rpm for 10 minutes and the clear serum was collected and stored at -80°C till analyzed.
Assay of bilirubin, liver enzymes and autoimmune markers
Total serum protein, bilirubin and AST, ALT, ALP and GGT activities were determined in serum samples of both the exposed and unexposed individuals using a Randox Daytona autoanalyser (Randox laboratories Ltd., Crumlin, Co. Antrim, UK). Serum ANA and anti-dsDNA were determined using ELISA kit from Calbiotech Inc. (Spring valley, CA,USA) according to manufacturer's instructions.
Cytokine quantification
Serum levels of cytokines IL6, IL8, and MCP-1 were measured in a subset of the total population under study. A total of 65 (32 arsenic exposed and 33 arsenic unexposed) individuals were randomly chosen for measurement of serum IL6, IL8 and MCP1 levels .The individuals were matched with respect to age-sex-tobacco usage status. Serum samples were collected from coagulated blood. IL6, IL8, and MCP1 concentrations were measured by ELISA using IL6, IL8, and MCP1 ELISA kits from Thermo Scientific (Pierce Biotechnologies), following manufacturer's instructions.
Statistical analysis
Mann Whitney test was performed to test for significant differences in all parameters, including arsenic contents in urine, water, liver function tests, ANA, anti ds-DNA, IL6, IL8, and MCP-1 between the unexposed and exposed groups. Data are expressed as mean ± SD. One way ANOVA with Tukey-Kramar Multiple Comparisons Post-Test (for parametric data) and Kruskal-Wallis Test with Dunn's Post test (for non parametric data) were used to compare differences in the central tendencies of different liver function and autoimmune marker parameters in more than two groups. Microsoft Excel and Graph Pad Instat (San Diego, CA, USA) software were used for the purpose.
Results
Discussion
In order to find out the dose response of the LFT parameters and autoimmune markers with the increase of arsenic concentration in urine, we have stratified the data of the exposed population into four sub-groups depending upon the arsenic content in urine as mentioned in the results section. Our findings show that an increasing trend is observed in both LFT parameters and autoimmune markers with increasing urinary arsenic concentration. The dose response increase is significant in case of AST, ALT, ANA and anti-dsDNA indicating that with increase in arsenic exposure (as urine is the best current exposure marker), the levels of hepatic damage and autoimmune response increases in the exposed individuals. Although no dose response is observed in bilirubin and alkaline phosphatase levels with urinary arsenic content compared to unexposed group , the significant increase in levels of other hepatic parameter indicates that increase in arsenic exposure causes hepatic injury since all the parameters together contribute to hepatic damage.
Conclusions
Chronic arsenic exposure causes a wide variety of human diseases. Exposed individuals are at higher risk of developing liver and cardiovascular disease, as indicated by elevated serum levels of liver injury biomarkers and inflammatory cytokines. Increase of autoimmune markers in the serum suggests that arsenic exposure also induces autoimmune diseases such as rheumatoid arthritis. Both rheumatoid arthritis and liver disease are risk factors for cardiovascular disease. Thus, the arsenic exposure induced systemic inflammatory disease and the hepatic injury likely contributes to increased cardiovascular risk observed in arsenic exposed populations.
Authors' information
Dr. Ashok K. Giri is a Chief Scientist at the CSIR-Indian Institute of Chemical Biology. His work includes various epidemiological and molecular biological aspects of the highly arsenic exposed population of West Bengal. He has more than 20 peer reviewed publications projecting research work of more than 10 years in this area.
Acknowledgements
Authors are grateful to Fogarty International Training Program (2D43TW000815-11) jointly with University of California, Berkeley, for providing training to S.P., N.B. N. D., N.S.M. and S.B. for research on molecular epidemiology and environmental health. This study was funded by Council of Scientific and Industrial Research, Government of India (NWP-0004 and NWP-0052); U.S. Public Health Service (ES011314, ES014443) to J.C.S.
Competing interests
The authors declare that there exists no competing financial interest among any of the authors.
Authors' contributions
AKG and JCS planned, designed and wrote the final manuscript, ND and SP collected samples, performed experimental works and prepared manuscript draft, NB performed experimental works and wrote manuscript draft, DC and NSM collected samples and performed field works, NS, TJS, SB, PM, AKB performed epidemiological survey. All authors read and approved the final manuscript.