19.03.2020 | Arthroscopy and Sports Medicine | Ausgabe 5/2020 Open Access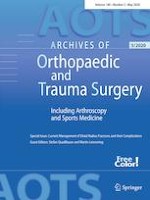 Arthroscopic assisted treatment of distal radius fractures and concomitant injuries
Zeitschrift:
Autoren:

Tobias Kastenberger, Peter Kaiser, Gernot Schmidle, Peter Schwendinger, Markus Gabl, Rohit Arora
Wichtige Hinweise
Publisher's Note
Springer Nature remains neutral with regard to jurisdictional claims in published maps and institutional affiliations.
Introduction
Distal radius fractures (DRFs) belong to the most common fracture type in humans. Depending on fracture fragment dislocation, fracture instability criteria, the patient's needs, and functional demands, treatment can vary between non-surgical treatment with cast immobilization and surgical treatment with open reduction and internal fixation. Nowadays, plating is the most common surgical treatment method for DRFs [
1
]. Wrist arthroscopy in DRFs underwent a cumulative evaluation in the last few decades [
2
–
5
]. Over the years, several authors have investigated the benefit of arthroscopy in the treatment of acute DRFs. Indications for arthroscopy in DRFs are multifragmented intra-articular fractures with comminution and/or die-punch fragments, associated carpal bone fractures or obvious intrinsic ligament injuries, an obvious widening of the distal radioulnar joint (DRUJ) suspecting a triangular fibrocartilage complex (TFCC) lesion, and radial styloid fractures because of a potential incomplete greater arch lesion with a SL ligament tear. Wrist arthroscopy is used for diagnostic and therapeutic purposes [
6
–
11
].
The following manuscript discusses the current literature regarding these indications and gives insight into the authors` opinions and practice.
Epidemiology
DRFs are still the most frequent fractures of the upper extremities of patients over 65 years old [
12
].
Incidence varies topographically. In Scandinavia, the incidence is 30 cases per 10,000 inhabitants per year [
13
]. Two peaks of prevalence are known: In younger years, at age ten (high energy trauma) and a peak incidence in young patients with a high functional demand [
14
], and in the elderly at the age of 60 (low energy trauma: fall from standing position). 70% of the fractures occur in women between the ages of 61 and 69 years [
15
].
Clinical history
DRFs had been a domain of conservative treatment formerly. During the last few decades, a paradigm shift occurred, from conservative therapy to surgical intervention and follow-up treatment with external fixators and K-wires to volar angular stable plating [
13
]. Additionally, the use of volar locking plates increased from 42% of plated fractures in 1999 to 81% in 2007 [
1
].
Why these changes took place cannot be explained, and there is still no evidence for the increase in surgical intervention, especially for angular stable plating systems.
Concerning the changes in our society, fractures are advancing in complexity and patients are increasingly demanding from a functional perspective [
5
].
Indications
Widening of the DRUJ may hide an injury of the TFCC, which can be verified arthroscopically.
Contraindications
Low-activity patients, extra-articular fractures in the elderly, open fractures, and DRFs associated with other multiple fractures are reported to be contraindications for wrist arthroscopy [
19
].
Wrist arthroscopy setup
Any fracture steps or gaps, chondral lesions, and the TFCC itself are assessed via the radiocarpal portals, whereas the SL and LT ligaments are assessed via the midcarpal portals.
Assisted fracture reduction
Therefore, it seems reasonable to invest all effort into adequate intra-articular fracture reduction. Arthroscopy is used to directly visualize any intra-articular gaps and step-offs and fracture reduction under visualization.
In cases of increased steps or gaps, the K-wires are driven back and an improvement of intra-articular reduction is performed under direct arthroscopic visualization. As long as the fracture is only temporary reduced and fixed using K-wires, every step and gap can be addressed by removing a particular K-wire to loosen that specific fragment. The reduction of this fragment is conducted under direct visualization using a hook probe. The loosened K-wire is introduced through the fracture fragment for temporary fixation. Additionally, traction through the finger traps helps to ensure radial inclination.
Once the reduction has been completed successfully, the epiphyseal screws are positioned through the plate drill holes, and the K-wires are removed. One last joint inspection after distal screw positioning is performed checking the absence of intra-articular screw protrusion and intra-articular fragment stability.
Finally, a fluoroscopy is used to check the screw length in an anterior- posterior, lateral, and dorsal-horizontal view.
Concomitant soft tissue injuries
The authors adapt to the circumstances of the surgery regarding the order of investigation of further concomitant injuries, which are mainly TFCC, SL and LT ligament injuries. They are assessed either before or after definite fracture reduction and fixation.
Concomitant injuries to the SL ligament occurs in about 30–50% [
5
,
44
–
46
]. A systematic review described a lesion of the scapholunate interosseous ligament in 41% (12 studies; 467 patients; mean follow-up 22 months). 76.2% were classified as Geissler grade I or II and 23.8% as Geissler grade III or IV.
SL and LT ligament injuries
TFCC injuries
The importance of TFCC tears and DRUJ instability is explained in a separate chapter within this journal. Therefore, the authors will not discuss any details in this manuscript [
20
].
Complications
At least the complication rate following wrist arthroscopy is low. The most reported complications of wrist arthroscopy are: procedure failure 1.16% and nerve injuries 1.17%; tendon lacerations are less frequent [
23
].
Conclusion
Wrist arthroscopy appears to be beneficial in diagnosing intra-articular steps and gaps, as well as concomitant injuries to the scapholunate and lunotriquetral ligament, and the triangular fibrocartilage complex in DRFs. It allows any step-off or gap malalignment to be addressed via direct visualization. The author`s indications for wrist arthroscopy in DRF's are intra-articular fractures with a sagittal fracture line at the level of the scapholunate ligament to exclude a scapholunate ligament injury, intra-articular DRF with a sagittal or frontal fracture line with larger relevant fragments for fracture reduction to minimize fracture steps and gaps (e.g., Die punch fragments), intra-articular DRF with an impacted central fragment to evaluate correct fragment reduction, intra-articular DRF with an unstable DRUJ for TFCC assessment and DRF with a scapholunate interval opening during dynamic intraoperative fluoroscopic evaluation with radial and ulnar abduction. For the authors, non-surgical treatment and immobilization for up to 4 weeks is recommended for Geissler grade I–III SL and LT injuries because the effort of arthroscopically conducted ligament repair has to be regarded critically in these cases as patients' benefits have not been proven. Open reduction, ligament suture, and/or K-wire pinning is mandatory for complete ligament tears Geissler grade IV.
However, to date, there is limited evidence that arthroscopy shows benefits in clinical outcome parameters. Prospective long-term studies are needed to confirm the need and beneficial role of arthroscopy and the proposed treatment regime in DRFs as well as SL and LT injuries.
Clinical case
We present a case of a male patient aged 31 years who sustained an intra-articular four-part DRF in 2011. The main instability area is located at the intermediate column. The initial antero-posterior (Fig.
10
) and lateral (Fig.
11
) X-rays show a loss of the radial length, radio-ulnar and dorso-palmar inclination.
×
×
Additionally, two palmarly located fragments and a dorso-ulnar fragment were detected in the CT scan performed after initial closed reduction and cast immobilization (Figs.
12
,
13
,
14
and
15
). At the time of surgery, after plate presetting and insertion of the arthroscope through the portal 3/4, the displaced fracture fragments were evaluated (Fig.
16
) and debrided (Fig.
17
) using a shaver. After arthroscopically assisted fracture reduction, the fragments showed anatomical alignment (Fig.
18
). The fluoroscopic images reassured the anatomic reduction in the antero-posterior and lateral view (Figs.
19
and
20
). X-ray follow-up at 4 weeks after surgery showed a stable situation without any loss of reduction (Figs.
21
and
22
). After 1 year X-rays showed a stable situation (Figs.
23
and
24
). Occasional therapy was continuously performed until the range of motion (ROM) was S (Extension/Flexion) 60/0/40 and R (Rotation) 80/0/80 (Figs.
25
and
26
). The arthroscopic view at the time of implant removal showed a palmar (Figs.
27
and
28
) and dorsal (Figs.
29
and
30
) scar formations limiting the ROM. Intra-articular debridement was conducted (Fig.
31
). Eight months after implant removal X-rays in extended and flexed wrist position were conducted showing a ROM S (Extension/Flexion) 80/0/80 (Figs.
32
and
33
). Clinical results of the patient in an extended und flexed position showing the good ROM (Figs.
34
and
35
).
×
×
×
×
×
×
×
×
×
×
×
×
×
×
×
×
×
×
×
×
×
×
×
×
Acknowledgments
Open access funding provided by University of Innsbruck and Medical University of Innsbruck. We thank Erin Naismith for proof reading this article.
Compliance with ethical standards
Conflict of interest
No author has a conflict of interest that relates to the content discussed in this manuscript. None of the authors' professional or financial affiliations that may be perceived as having biased the manuscript. Each author certifies that he or she, or a member of their immediate family, has no commercial associations (i.e., consultancies, stock ownership, equity interest, patent/licensing arrangements, etc.) that might pose a conflict of interest in connection with the submitted article.
Open Access
This article is licensed under a Creative Commons Attribution 4.0 International License, which permits use, sharing, adaptation, distribution and reproduction in any medium or format, as long as you give appropriate credit to the original author(s) and the source, provide a link to the Creative Commons licence, and indicate if changes were made. The images or other third party material in this article are included in the article's Creative Commons licence, unless indicated otherwise in a credit line to the material. If material is not included in the article's Creative Commons licence and your intended use is not permitted by statutory regulation or exceeds the permitted use, you will need to obtain permission directly from the copyright holder. To view a copy of this licence, visit
http://​creativecommons.​org/​licenses/​by/​4.​0/​
.
Publisher's Note
Springer Nature remains neutral with regard to jurisdictional claims in published maps and institutional affiliations.