13.10.2020 | Original Paper | Ausgabe 1/2021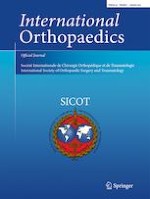 Arthroscopic realignment and osteosynthesis of unstable scaphoid nonunion with cancellous bone graft from the ipsilateral radius
Zeitschrift:
Autoren:

Wei Hsiung, Hui-Kuang Huang, Jung-Pan Wang, Ming-Chau Chang, Yi-Chao Huang
Wichtige Hinweise
Publisher's note
Springer Nature remains neutral with regard to jurisdictional claims in published maps and institutional affiliations.
Abstract
Purpose
The treatment of delayed union and established nonunion of the scaphoid using a volar approach with impaction of bone graft, either a cancellous or cortico-cancellous wedge graft, for osteosynthesis and maintenance of reduction. With the advancement of instruments and techniques of wrist arthroscopy, wider indications for wrist problems can be solved by this minimally invasive technique. We report our results of arthroscopic reduction, cancellous bone grafting to the regional distal radius, and headless screw fixation for the treatment of scaphoid nonunion, even with humpback deformity.
Methods
Between August 2014 and February 2018, 41 patients (42 wrists) with unstable scaphoid nonunion received arthroscopic surgery. The mean follow-up was 38.1 months (range 24–70 months). We evaluated the results with a function questionnaire and clinical outcomes based on the visual analog scale (VAS) pain score, range of motion and grip strength, and radiologic measurements.
Results
The union rate was 92.6% (38/41 patients) and union time was 4.6 months. Patients regained almost a full range of motion compared with the contralateral wrist. The post-op Quick DASH, Mayo wrist score, and VAS pain score all had significant improvement, with
p
 < 0.05. The scapholunate angle showed significant correction from pre-op 68.0° to post-op 58.3°. The average VAS satisfaction score at final follow-up was 8.7.
Conclusion
Arthroscopic realignment and osteosynthesis for the treatment of unstable scaphoid nonunion with ipsilateral radius bone graft, even with humpback deformity, can achieve a high union rate, good radiological correction, and good functional recovery.