01.12.2017 | Research article | Ausgabe 1/2017 Open Access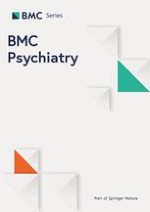 Assessing the burden of treatment-emergent adverse events associated with atypical antipsychotic medications
Zeitschrift:
Autoren:

Pierre-Michel Llorca, Christophe Lançon, Ann Hartry, T. Michelle Brown, Dana B. DiBenedetti, Siddhesh A. Kamat, Clément François
Abbreviations
MDD
Major depressive disorder
TEAEs
Treatment-emergent adverse events
Background
Atypical antipsychotics (AAPs) are an effective treatment for many types of mental illnesses. According to treatment guidelines, antipsychotics are recommended for schizophrenia treatment [
1
–
3
], for the treatment of bipolar disorders [
4
,
5
], and in some cases, as adjunct therapy for major depressive disorder (MDD) [
6
,
7
]. Although effective, AAPs are often associated with treatment-emergent adverse events (TEAEs), which can be highly burdensome and can affect quality of life and medication adherence [
8
–
10
]. Accordingly, treatment guidelines recommend that physicians modify treatment regimens based on patients' response and ability to tolerate side effects [
1
–
7
]. This report focused on schizophrenia and MDD as two groups that could be anticipated to experience the effects of the medication very differently, as it was important to study the scope of how patients experience TEAEs. In recent decades, AAPs have been introduced for the treatment of schizophrenia and MDD, with both improved treatment efficacy and reduced neurological side effect burden compared with older, first generation antipsychotics [
11
,
12
]. Schizophrenia affected an estimated 1.1% of adults (2.6 million) in the United States in 2013, and onset in early adulthood is common, often leading to chronic lifelong disability [
13
,
14
]. MDD is even more prevalent in the United States, with an estimated 6.7% (15.7 million) adults having experienced an MDD episode in 2013, and more than 10 million who received treatment for depression [
15
]. However, despite the improved efficacy and tolerability profiles of AAPs, the risk of TEAEs still associated with these agents often includes weight gain and metabolic syndrome, extrapyramidal symptoms (EPS), sexual dysfunction, and sedation and somnolence, depending on the specific agent [
9
,
16
,
17
]. A multiple treatment meta-analysis of schizophrenia trials has shown that although antipsychotics had small but robust differences in efficacy, they differed substantially in side effects [
12
].
Perspectives on the importance of TEAEs differ across patients and between patients and physicians. That is, how patients are affected by TEAEs is specific to each individual and may also be seen differently by physicians. These differences in perspectives and preferences must be taken into account within the therapeutic alliance, as they may impact treatment decisions when considering the overall benefit-risk profile. In fact, increasing importance is being placed on bringing the patients' perspectives to the evaluation of the overall benefit-risk profile for treatment [
18
]. In a study reviewing adverse events of antipsychotics as outcome measures, it was concluded that a patient's subjective experience of medication should be given more consideration [
19
]. Although TEAEs are an important consideration for treatment, they are hard to quantify. The patient's perspective may assist in this and has been used in other disease fields. For example, in rheumatology, a tolerability index that has been used in clinical trials incorporates a patient-based method of assessing TEAEs [
20
]. In cancer clinical trials, a recommended core set of patient-reported symptoms for measuring side effects has been established to promote consistent assessment of treatment-related symptoms [
21
]. There are a number of neuroleptic side-effect assessment scales available [
22
,
23
], and among the most complete are the 48-item Udvalg for Kliniske Undersogelser (UKU) rating scale [
24
] and the Liverpool University Neuroleptic Side-Effect Rating Scale (LUNSERS) [
25
]. However, these scales do not fully account for the patient's subjective experience or preference. Although considered important, the differences in patient and physician perspective in schizophrenia and MDD appear to be lacking in the literature.
The current study investigates TEAEs of AAPs from both patient and physician perspectives. The goal of the study was to provide better understanding of the occurrence and burden of TEAEs associated with AAP medications, as reported by patients and physicians. The initial feedback gained in this study will be used for a future project to generate an algorithm for a tolerability index score that will quantify the burden of AAP TEAEs and fully accommodate patient preference through a discrete choice experiment. The development of this index measure to assess the burden of TEAEs could help facilitate the prescribing of AAP medications to individuals with MDD and schizophrenia. A first step to establishing this potential tolerability index algorithm would be to evaluate which TEAEs are most bothersome to patients. Although the long-term goal is to allow the approach towards assessing TEAEs to be transnational, the patient selection was based in the US, partly due to the push by the FDA to include patients' perspectives in the overall benefit-risk profile for treatment [
18
].
Methods
Study design
To gain insight into the occurrence and burden of TEAEs associated with AAPs, focus groups with patients with MDD and interviews with patients with schizophrenia were conducted at two qualitative research facilities: one in Raleigh, North Carolina, USA, and one in St. Louis, Missouri, USA. Although focus groups are more efficient in terms of the time required for data collection and appropriate for data collection in the MDD patient population, previous studies have demonstrated that individual interviews are more successful in obtaining adequate feedback from individuals with schizophrenia, as these patients are generally more comfortable discussing their symptoms and experiences on an individual basis [
26
]. A physician focus group was also conducted with psychiatrists at the North Carolina location to obtain their perspectives on the occurrence and importance of TEAEs in these patient populations. This study fully adhered to COREQ guidelines and methodology. Medical recruiters at each facility screened all participants following a study review by an institutional review board (RTI IRB Approval 2/18/15; # 13733); informed, written consent was obtained prior to initiation of the study. Patients and physicians were provided an honorarium in appreciation for their time.
Physician and patient recruitment
Patients were selected from the individual site databases of general community residents who had previously agreed to be contacted for potential research opportunities. Patients were identified and screened, based on their own reports, to meet the inclusion criteria of being an English-speaking adult with a clinician-administered diagnosis of MDD or schizophrenia, taking one or more AAPs within the past year, and reporting one or more TEAEs associated with an AAP. The AAPs included were: aripiprazole, asenapine, clozapine, iloperidone, lurasidone, olanzapine, paliperidone, quetiapine, risperidone, or ziprasidone. Physicians interested in participating in the study were identified from the North Carolina site database. Each physician was selected by meeting the criteria of being a practicing psychiatrist providing direct care of adult patients with MDD and/or schizophrenia and regular treatment of these patients with AAP medication (e.g., 10% or more of patients with MDD requiring adjunctive therapy).
Procedures
In this study, a TEAE was defined as "any untoward or undesirable medical occurrence in a patient that was linked in time with the use of a pharmaceutical/medicinal product and that may or may not be considered to be related to that product." Adverse drug events were not actively solicited, ascertained, or evaluated in the study; however, because this project was conducted by Lundbeck, if a potential TEAE associated with a Lundbeck product became evident through the conduct of this qualitative research, a TEAE report was submitted to Lundbeck US Pharmacovigilance.
Semi-structured interview guides were utilized to provide structure to the MDD focus groups (lasting approximately 1.5 h each), the schizophrenia individual interviews (lasting 45 min each), and the psychiatrist focus group (lasting approximately 1.5 h). All focus groups and interviews were conducted by two PhD-level psychologists. General discussion was followed by targeted questions along with handouts for each participant to provide individualized feedback. The following information was obtained at the group or individual patient level: 1) exhaustive lists of TEAEs experienced, 2) frequency of each TEAE, and 3) bother ranking for the most bothersome TEAEs ("1" for most bothersome TEAE, "2" for the next most bothersome, and so on; up to a number that seemed meaningful to the patient). At the physician level, collected information included: 1) an exhaustive list of TEAEs observed or reported by their patients; 2) the most and least frequently occurring TEAEs; 3) clinically important TEAEs (ranked as 1 for most clinically important); and 4) level of patient-perceived bother for each clinically important TEAE (0 = no bother to 10 = extremely bothered). Physicians were not asked to distinguish between adverse event profiles for patients with MDD and schizophrenia.
Analysis
To ensure consistency in organizing and coding TEAEs across patients and physicians, a codebook was developed and applied, providing consensus in TEAE coding decisions by each of the two focus group and interview moderators.
In order to organize the rankings and rating scores in a more meaningful manner, a "top 3 box" approach was taken (i.e., collapsing the proportion of participants reporting in the top 3 responses). For example, bother and clinical importance rankings of 1, 2, and 3 were collapsed into the "most" bothersome or "most" clinically-important TEAEs, and ratings of 8, 9, and 10, among physicians in rating patient burden were collapsed into the "most" bothersome to patients. Given the qualitative nature of the study, no formal statistical analyses or comparisons were conducted.
Results
Discussion
This study used focus groups for MDD patients, interviews for schizophrenia patients, and focus groups for physicians to form and rank an exhaustive list of TEAEs to show that patients with MDD and schizophrenia generally used similar words to describe the TEAEs they were experiencing. TEAEs reported as bothersome across both patient groups included cognitive issues, weight gain and/or increased appetite, low energy, EPS, and the need to sleep/excessive sleep/excessive sleepiness. TEAEs considered more bothersome by patients with schizophrenia were weight gain, low energy, EPS, mental anxiety and increased positive symptoms, whereas TEAEs considered more bothersome by patients with MDD were cognitive issues, somnolence/sedation, and flat/restricted affect. Patients' and physicians' perspectives did not align as well as those across the two patient groups. TEAEs considered most clinically important by psychiatrists included metabolic syndrome, weight gain, neutropenia, hyperglycemia, and QT prolongation; those considered most bothersome to patients from physicians' perspectives included weight gain, reduced sexual desire or performance, EPS, akathisia, and hormonal issues. Some of the differences between the perspectives of patients and psychiatrists were related to clinical term use. For example, differences in understanding of akathisia may have been due to differences in terminology as well as differences in description and/or experience, which may explain why clinicians saw it as clinically important and patients did not list it as most bothersome. In addition, due to patients' tendency to combine types of EPS, the TEAEs of tardive dyskinesia, dystonia, and Parkinson symptoms were combined for the purposes of this study. Interestingly, three of the most frequent and bothersome TEAEs reported by patients (low energy, somnolence/sedation, and cognitive issues) were not described by physicians as being clinically important or most bothersome. This may reflect the challenges that physicians have in measuring and recording these events; but it may also reflect an assumption by the physicians that these symptoms are due to the disease while patients ascribe the adverse events to the treatment. This study did not attempt to tease this apart but this question would be useful for further research in support of improving the therapeutic alliance.
The results described in this study provide better understanding of the occurrence and burden of TEAEs associated with AAP medications as reported by patients and physicians. It is also interesting to compare the frequency and burden ratings from this study to the adverse event profiles of the drugs as observed in the clinical trials and described in the approved product information (PI) sheets. A survey of the top five product PIs as listed by the patients in this study (risperidone, olanzapine, lurasidone, aripiprazole and quetiapine) reveals both similarities and differences. No adverse event is mentioned in all five PIs (using the section on Adverse Reactions with MDD or schizophrenia. Akathisia is listed in four of the five PIs, which is reflected in the common mention by psychiatrists. Other frequent and burdensome AEs, such as weight gain or increased appetite, somnolence, and lethargy/fatigue are each mentioned in three of the five PIs as a common adverse event. However, dizziness and constipation are also listed in three of five PIs but are not mentioned as often by the patients or physicians in this study. Conversely, the very common and burdensome AE of cognitive issues is not mentioned in any PI, nor are sexual function changes. The mismatch between labelling and patient and physician experience further emphasizes the need to better incorporate patient perspective into adverse event reporting and evaluation.
Conclusion
The wide range of TEAEs that are both frequent and bothersome and the variation in perceived burden according to the diagnosis highlight the need for a tailored TEAE-awareness approach when choosing an AAP. Following feedback from both patients and psychiatrists, the following TEAEs would probably carry the most weight for a tolerability index measure: weight gain and/or increased appetite, low energy, somnolence/sedation, cognitive issues, EPS, and reduced sexual desire or performance. Other TEAEs that were considered clinically important by psychiatrists included abnormal test results or blood values, cardiovascular issues, major medical issues, hormonal changes, and akathisia. Information gained in this study on TEAE burden associated with AAP use will be helpful in the future development of tools for assessing the overall tolerability of these agents.
Acknowledgements
Editorial support for the preparation of this manuscript was provided by Melissa Kirk, Ph. D. at Scientific Connexions, Lyndhurst, NJ, USA, an Ashfield Company, part of UDG Healthcare plc, and funded by Otsuka America Pharmaceutical, Inc and Lundbeck LLC, Copenhagen, Denmark.
Funding
This study was sponsored by Otsuka America Pharmaceutical, Inc., Princeton, NJ, USA, Otsuka Pharmaceutical Development and Commercialization, Inc., Princeton, NJ, USA, and Lundbeck LLC, Copenhagen, Denmark.
Availability of data and materials
Due to the qualitative nature of the study, additional data can be requested from the authors and will be made readily available.
Authors' contributions
CL, AH, DBD, SAK, and CF contributed to study concept and design and P-ML, AH, DBD, SAK, and CF to the development of study methods. TMB and DBD contributed to acquisition of data and P-ML, AH, TMB, DBD, SAK, and CF contributed to analysis and interpretation of data. AH, TMB, DBD, and CF made contributions of administration, technical or material support and AH and CF contributed to study supervision. All authors participated in the writing, review, and revision of the manuscript. All authors read and approved the final manuscript.
Competing interests
Pierre-Michele Llorca discloses personal fees for travel reimbursement from Lundbeck LLC related to this study and personal fees from Janssen, Otsuka, and Takeda, not related to this study. Christophe Lancon has nothing to disclose. Ann Hartry and Clement Francois are employees of Lundbeck LLC, and Siddhesh Kamat is an employee of Otsuka America Pharmaceutical, Inc. T. Michelle Brown and Dana B. DiBenedetti are employees of RTI Health Solutions, which has received funds from Lundbeck LLC in connection with the conduction of this study.
Consent for publication
Not applicable.
Ethics approval and consent to participate
Following a study review and approval by the RTI International institutional review board (approval #13733), medical recruiters at each facility screened all participants. Informed, written consent was obtained prior to initiation of the study. The study adhered to COREQ guidelines and methodology.
Open Access
This article is distributed under the terms of the Creative Commons Attribution 4.0 International License (
http://​creativecommons.​org/​licenses/​by/​4.​0/​
), which permits unrestricted use, distribution, and reproduction in any medium, provided you give appropriate credit to the original author(s) and the source, provide a link to the Creative Commons license, and indicate if changes were made. The Creative Commons Public Domain Dedication waiver (
http://​creativecommons.​org/​publicdomain/​zero/​1.​0/​
) applies to the data made available in this article, unless otherwise stated.