01.12.2016 | Research article | Ausgabe 1/2016 Open Access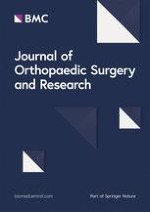 Assessing the negative impact of phenyl alkanoic acid derivative, a frequently prescribed drug for the suppression of pain and inflammation, on the differentiation and proliferation of chondrocytes
Zeitschrift:
Autoren:

Seyit Ali Gumustas, İbrahim Yilmaz, Mehmet Isyar, Duygu Yasar Sirin, Ahmet Guray Batmaz, Ali Akin Ugras, Kadir Oznam, Zafer Ciftci, Mahir Mahirogullari
Abstract
Background
Non-steroidal anti-inflammatory drugs (NSAIDs) are frequently prescribed to relieve pain and inflammation. These NSAIDs have also analgesic effects and can be administered via oral, injectable, and topical routes. During inflammation, a number of synovial mediators and cytokines are released which decrease the pH level of the synovial fluid. Administration of acidic NSAIDs further decreases the pH levels and hence contributes to the destruction of the cartilage. To our knowledge, no cellular-based study regarding the chondrotoxicity of phenyl alkanoic acid derivatives on NSAIDs was conducted before. Thus, the aim of this pioneering study was to examine the effect of frequently prescribed NSAIDs, a phenyl alkanoic acid derivative, flurbiprofen, on the proliferation and differentiation of human primer chondrocyte cultures in vitro.
Methods
Primer chondrocyte cultures were prepared from osteochondral tissue obtained during surgery for gonarthrosis. Samples not exposed to the pharmacological agent were used as the control group. The samples were treated with 1, 10, 100, 250, 500, or 1000 μM of the agent for 24, 48, and 72 h. The cell viability, toxicity, and proliferation were assessed with MTT (3-(4,5-dimethylthiazol-2-yl)-2,5-diphenyltetrazolium bromide) analysis and prechondrocytic precursor stage-specific embryonic antigen-1 (SSEA-1) expression using a commercial ELISA kit spectrophotometrically. The surface morphology of the samples in each group was compared using an inverted light microscope and an environmental scanning electron microscope (ESEM). An analysis of variance was used to compare between-group differences. Tukey's honest significant difference (HSD) method (95 % confidence interval) was used to evaluate the differences and significance in averages. The alpha significance value was considered <0.01.
Results
Statistically significant cytotoxicity was observed in the treatment groups. NSAID had a significant negative effect on the proliferation and differentiation of chondrocytes as compared to the control group (
p
 < 0.01).
Conclusion
Before administering phenyl alkanoic acid derivatives in the clinical setting, their role in suppressing the proliferation and differentiation of chondrocytes should be taken into account. Thus, caution should be given when prescribing these drugs.