01.12.2018 | Research article | Ausgabe 1/2018 Open Access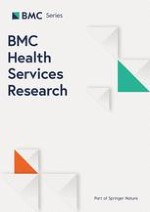 Assessing youth-friendly sexual and reproductive health services: a systematic review
Zeitschrift:
Autoren:

Amanda Mazur, Claire D. Brindis, Martha J. Decker
Abstract
Background
Over the last quarter century, there has been an emergence of evidence-based research directed toward the development, implementation, and assessment of youth-friendly health services (YFHS) to improve the delivery of sexual and reproductive health services for young people. Despite these research efforts, evidence supporting the effectiveness of YFHS is limited, which may be attributed to a lack of consensus on how to define and measure youth-friendliness to track progress and evaluate outcomes. The purpose of this systematic review is to assess how youth-friendly sexual and reproductive health services are measured worldwide.
Methods
We conducted a systematic review of studies measuring youth-friendly sexual and reproductive health services at health facilities published between January 2000 and June 2015 using PubMed, Web of Science, and POPLINE databases. Additional studies were identified by reviewing references of selected articles. Studies were screened to identify measurements and indicators that have been used to measure YFHS.
Results
Our review identified 20 studies from an initial search of more than 11,000 records, including six from high-income countries and 14 from low-and middle-income countries. The review identified 115 indicators used for measuring youth-friendly sexual and reproductive health services. Our review found a lack of consistency in the tools and indicators used to measure YFHS. The three most frequently assessed domains were accessibility, staff characteristics and competency, and confidentiality and privacy. The majority of the indicators were not specific to young people's needs and often reflected basic standards of care.
Conclusions
This review shows the need for standardization and prioritization of indicators for the evaluation of YFHS. The results can be used to identify a core set of indicators that can be incorporated into a framework for assessing youth-friendly sexual and reproductive health services. There is a need to further distinguish between those variables that may have greatest impact on the use of services by young people, such as respect and privacy, those that impact the quality of services offered, and those that have limited relevance. Conducting more rigorous studies using a refined set of indicators is critical to measure and compare the impact and effectiveness of YFHS efforts.