01.12.2012 | Research | Ausgabe 1/2012 Open Access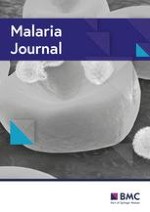 Assessment of
Anopheles

salivary antigens as individual exposure biomarkers to species-specific malaria vector bites
Zeitschrift:
Autoren:

Zakia M I Ali, Mahfoud Bakli, Albin Fontaine, Nawal Bakkali, Vinh Vu Hai, Stephane Audebert, Yvan Boublik, Frederic Pagès, Franck Remoué, Christophe Rogier, Christophe Fraisier, Lionel Almeras
Wichtige Hinweise
Electronic supplementary material
The online version of this article (doi:
10.​1186/​1475-2875-11-439
) contains supplementary material, which is available to authorized users.
Zakia M I Ali, Mahfoud Bakli contributed equally to this work.
Competing interests
The authors declare that they have no competing interests.
Authors' contributions
AL and RC conceived and designed the experiments. ZA and BM performed the experiments. AL, FA, RC, FC and PF analysed the data. BN, AS, BY, RF, VHV contributed reagents/materials/analysis tools. AL, FC, FA and RC wrote the paper. All authors read and approved the final manuscript.
Abstract
Background
Malaria transmission occurs during the blood feeding of infected anopheline mosquitoes concomitant with a saliva injection into the vertebrate host. In sub-Saharan Africa, most malaria transmission is due to
Anopheles funestus s.s
and to
Anopheles gambiae s.l.
(mainly
Anopheles gambiae s.s.
and
Anopheles arabiensis
). Several studies have demonstrated that the immune response against salivary antigens could be used to evaluate individual exposure to mosquito bites. The aim of this study was to assess the use of secreted salivary proteins as specific biomarkers of exposure to
An
.
gambiae
and/or
An
.
funestus
bites.
Methods
For this purpose, salivary gland proteins 6 (SG6) and 5′nucleotidases (5′nuc) from
An. gambiae
(gSG6 and g-5′nuc) and
An. funestus
(fSG6 and f-5′nuc) were selected and produced in recombinant form. The specificity of the IgG response against these salivary proteins was tested using an ELISA with sera from individuals living in three Senegalese villages (NDiop, n = 50; Dielmo, n = 38; and Diama, n = 46) that had been exposed to distinct densities and proportions of the
Anopheles
species. Individuals who had not been exposed to these tropical mosquitoes were used as controls (Marseille, n = 45).
Results
The IgG responses against SG6 recombinant proteins from these two
Anopheles
species and against g-5′nucleotidase from
An
.
gambiae
, were significantly higher in Senegalese individuals compared with controls who were not exposed to specific
Anopheles
species. Conversely, an association was observed between the level of
An. funestus
exposure and the serological immune response levels against the f-5′nucleotidase protein
.
Conclusion
This study revealed an
Anopheles
salivary antigenic protein that could be considered to be a promising antigenic marker to distinguish malaria vector exposure at the species level. The epidemiological interest of such species-specific antigenic markers is discussed.