01.12.2017 | Research | Ausgabe 1/2017 Open Access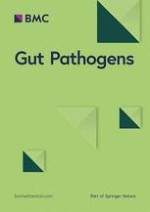 Assessment of antibiotic susceptibility in
Lactobacillus

isolates from chickens
Zeitschrift:
Autoren:

Marta Dec, Renata Urban-Chmiel, Dagmara Stępień-Pyśniak, Andrzej Wernicki
Abstract
Background
The aim of this study was to determine the susceptibility of 88
Lactobacillus
isolates derived from chickens to antibiotic substances and to detect drug-resistance genes.
Results
The minimal inhibitory concentration of 13 antimicrobial substances was determined by the broth microdilution method, and resistance genes were detected by PCR. We recorded a high prevalence of resistance to tiamulin (90% resistant isolates), tetracyclines (74%) and lincomycin (70%), and a moderately high frequency of resistance to enrofloxacin (48%), macrolides (42%), aminoglycosides (12.5–31%), ampicillin (26%) and chloramphenicol (23%). Multi-drug resistance was observed in 79.5% of isolates. The presence of resistance genes was generally correlated with phenotypic resistance, but some molecular determinants were also recorded in susceptible isolates. Among tetracycline resistance genes, the most frequently identified was
tetW
(45% isolates), followed by
tetM
(26%) and
tetL
(24%). The
ermB
,
ermC
and
lnuA
genes, associated with resistance to macrolides and lincosamides, were observed in 39, 12 and 39% of isolates, respectively. Among genes determining resistance to aminoglycoside antibiotics, we identified
ant(6)
-
Ia
(10% of isolates),
aac(6
′
)
-
Ie
-
aph(2
′
)
-
Ia
(8%),
aph(2
″
)
-
Ic
(6%) and
aadE
(4.5%). The
cat
gene was present in 32 isolates, including 8 of 20 found to be resistant to chloramphenicol. Two genes encoding efflux pumps were identified—the
acrA
gene was present in all isolates tested, and 10 of 79 lactobacilli determined to be phenotypically resistant to tiamulin contained the
lsaE
gene. We were unable to explain the resistance mechanism of
Lactobacillus
isolates to ampicillin, but showed that it did not involve the production of β-lactamases.
Conclusions
Our findings indicate that intestinal lactobacilli should be considered a reservoir of resistance genes and that antibiotics must be used prudently in poultry production. The data derived from this study can be used as a basis for reviewing current microbiological breakpoints for categorization of susceptible and resistant strains within the genus
Lactobacillus
.