01.12.2014 | Research | Ausgabe 1/2014 Open Access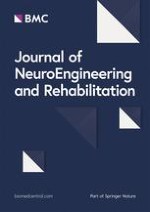 Assessment of asymmetric leg loading before and after total hip arthroplasty using instrumented shoes
Zeitschrift:
Autoren:

Alicia Martínez-Ramírez, Dirk Weenk, Pablo Lecumberri, Nico Verdonschot, Dean Pakvis, Peter H Veltink
Wichtige Hinweise
Competing interests
The authors declare that they have no competing interests.
Authors' contributions
AM-R: Conception and design, acquisition, analysis and interpretation of data; drafted the article. DW: Acquisition of data. PL: Drafted the article. NV: conception and design. DP: conception and design, acquisition of data. PHV: conception and design, drafted the article. All the authors revised critically the article for important intellectual content and gave the final approval of the version to be published. All authors read and approved the final manuscript.
Abstract
Background
Total hip arthroplasty is a successful surgical treatment in patients with osteoarthritis of the hip. Different questionnaires are used by the clinicians to assess functional capacity and the patient's pain, despite these questionnaires are known to be subjective. Furthermore, many studies agree that kinematic and kinetic parameters are crucial to evaluate and to provide useful information about the patient's evolution for clinicians and rehabilitation specialists. However, these quantities can currently only be obtained in a fully equipped gait laboratory. Instrumented shoes can quantify gait velocity, kinetic, kinematic and symmetry parameters. The aim of this study was to investigate whether the instrumented shoes is a sufficiently sensitive instrument to show differences in mobility performance before and after total hip arthroplasty.
Methods
In this study, patients undergoing total hip arthroplasty were measured before and 6–8 months after total hip arthroplasty. Both measurement sessions include 2 functional mobility tasks while the subject was wearing instrumented shoes. Before each measurement the Harris Hip Score and the Traditional Western Ontario and McMaster Universities osteoarthritis index were administered as well.
Results
The stance time and the average vertical ground reaction force measured with the instrumented shoes during walking, and their symmetry index, showed significant differences before and after total hip arthroplasty. However, the data obtained with the sit to stand test did not reveal this improvement after surgery.
Conclusions
Our results show that inter-limb asymmetry during a walking activity can be evaluated with the instrumented shoes before and after total hip arthroplasty in an outpatient clinical setting.