13.09.2017 | Genetics | Ausgabe 1/2018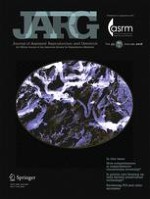 Assessment of M2/ANXA5 haplotype as a risk factor in couples with placenta-mediated pregnancy complications
Zeitschrift:
Autoren:

Nina Rogenhofer, Lara R. M. Nienaber, Lea C. Amshoff, Nadia Bogdanova, David Petroff, Peter Wieacker, Christian J. Thaler, Arseni Markoff
Abstract
Purpose
The aim of this study was to confirm the associated
M2/ANXA5
carrier risk in women with placenta-mediated pregnancy complications (PMPC) and to test their male partners for such association. Further analysis evaluated the influence of maternal vs. paternal M2 alleles on miscarriage.
Methods
Two hundred eighty-eight couples with preeclampsia (PE), intrauterine growth restriction (IUGR), or premature birth (PB) were recruited (
n
= 96 of each phenotype). The prevalence of the M2 haplotype was compared to two control cohorts. They included a group of women with a history of normal pregnancy without gestational pathology (Munich controls,
n
= 94) and a random population sample (PopGen controls,
n
= 533).
Results
Significant association of M2 haplotype and pregnancy complications was confirmed for women and for couples, where prevalence was elevated from 15.4 to 23.8% (
p
< 0.001). Post hoc analyses demonstrated an association for IUGR and PB individually. A strong link between previous miscarriages and M2 carrier status was identified which may explain the predisposition to placental pregnancy complication.
M2/ANXA5
appears to be a risk factor for adverse pregnancy outcomes related, but not limited to miscarriages, with similar prevalence in women and their male partners.
Conclusion
These findings support the proposed physiological function of ANXA5 as an embryonic anticoagulant that appears deficient in contiguous specter of thrombophilia-related pregnancy complications culminating more frequently in miscarriage in a maternal M2 carrier background.