01.12.2018 | Original research article | Ausgabe 1/2018 Open Access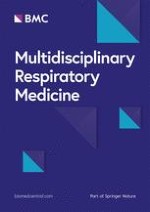 Assessment of osteoporosis using the FRAX method and the importance of vitamin D levels in COPD patients
Zeitschrift:
Autoren:

Ceyda Anar, Melike Yüksel Yavuz, Filiz Güldaval, Yelda Varol, Dilek Kalenci
Abstract
Background
The aim of this paper was to evaluate the availability of FRAX for assessing osteoporosis risk, and to demonstrate the importance of vitamin D levels in COPD patients.
Methods
Fourty-six males who fulfilled the COPD diagnostic criteria defined by GOLD were included. Age, race, BMI, physical activity frequency, smoking and dietary habits, age at COPD diagnosis, disease duration, fractures history, and medications use were determined. Levels of 25(OH)D were detected. BMD was measured by DXA at lumbar spine, femoral neck, and entire femur, and classified according to ISCD. FRAX score was calculated. Control group was composed of 40 non-smoker individuals without previous history of pulmonary diseases.
Results
25(OH)D levels were significantly different between patients and controls. In the COPD group, a statistically significant difference in vitamin D levels was detected among the A, B, C, and D grades, while no such significant differences in FRAX scores were detected. 25(OH)D levels were significantly low in COPD patients with disease exacerbations and hospitalizations in the previous one year. No correlation was detected between vitamin D levels and the FRAX score. A positive correlation was observed between vitamin D levels and T-score. FRAX scores were higher and vitamin D levels were lower in osteoporotic COPD patients than in non-osteoporotic COPD patients.
Conclusion
Using FRAX for assessing osteoporosis in COPD can reduce fracture risk and allow adequate treatment. Since vitamin D levels are related to exacerbations and hospitalizations, vitamin D supplementation may be needed in COPD patients, especially in those with high FRAX scores.