01.10.2011 | Ausgabe 5/2011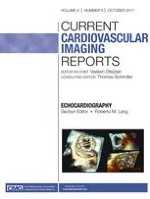 Assessment of the Right Ventricle in Adults: What Have the Guidelines Taught Us?
Zeitschrift:
Autoren:

Konstadina Darsaklis, Jonathan Afilalo, Lawrence G. Rudski
Abstract
In the last decade, the role of the right ventricle (RV) has been increasingly recognized in a variety of conditions, contributing to the pathophysiology of disease and the prediction of outcomes. Recent echocardiography guidelines focused on the RV have been published by the American Society of Echocardiography to encourage a standardized approach in assessing RV size and function. In this article, we review the recently published echocardiography guidelines for assessing RV size and function, and their importance in clinical practice. We discuss advantages and disadvantages of currently available imaging techniques for evaluating the RV morphology, size, and systolic function. Basic methods such as TAPSE, tissue Doppler, RIMP, and fractional area change are discussed, as are more emerging techniques such as strain and strain rate. Additional insights are provided into upcoming uses of echocardiography in the areas or RV dyssynchrony and three-dimensional echocardiography.