01.12.2017 | Research article | Ausgabe 1/2017 Open Access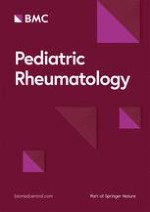 Assessment of transition readiness in adolescents and young adults with chronic health conditions
Zeitschrift:
Autoren:

Paul T. Jensen, Gabrielle V. Paul, Stephanie LaCount, Juan Peng, Charles H. Spencer, Gloria C. Higgins, Brendan Boyle, Manmohan Kamboj, Christopher Smallwood, Stacy P. Ardoin
Abstract
Background
Transition from pediatric to adult health care is a vulnerable period for adolescents and young adults. Challenges include paucity of validated measures to assess patients' transition readiness. We evaluated the Transition Readiness Assessment Questionnaire (TRAQ) in adolescents and young adults with rheumatic, gastrointestinal, and endocrine disorders. We examined whether baseline TRAQ scores and other demographic variables predicted transition to adult care over a three year follow up period.
Methods
In this descriptive study at a single institution, eighty-nine adolescents at a single pediatric academic medical center completed demographic and medical history surveys and the TRAQ and were followed over 3 years by telephone interview to determine whether they had transitioned to adult subspecialty care. Transition was defined as attending at least one adult subspecialty appointment. Multivariable logistic regression and Cox proportional hazards regression models were used to determine whether TRAQ scores predicted time to transition.
Results
Of the participants, 56% had rheumatic, 21% endocrine, and 23% gastrointestinal conditions. The TRAQ self-management domain score was not significantly associated with age, gender, socioeconomic status, or specialty. The TRAQ self-advocacy score increased with age. Baseline TRAQ scores did not predict transition or time to transition over three years.
Conclusion
In this cohort of adolescents and young adults who were 16 to 23 years of age at enrollment, 48% transitioned to adult care over three years of follow up. Nearly half reported not discussing transition with provider or seeing provider independently for part of visit. Older age but not other demographic variables nor baseline TRAQ score predicted transition or time to transition to an adult subspecialty provider; however, a there was a trend towards shorter time to transition with the highest quartile TRAQ scores.