09.02.2018 | Original Article | Ausgabe 4/2018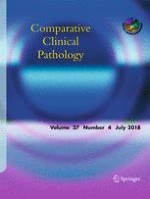 Assessment of two abdominal mass closure methods using fishing line in rabbit model: clinical and pathological study
Zeitschrift:
Autoren:

H. Hemida, M. Benchohra, K. Amara, A. Y. Kalbaza
Abstract
The aim of the present study was to assess two methods of mass abdominal closure with the fishing line as an alternative suture material for abdominal wall closure. Eighteen healthy male white rabbits weighing approximately 2.5 kg were used in this study. Animals were separated into three groups: control group (CG) (
n
 = 06), interrupted pattern suture experimental group (IEG) (
n
 = 06), and continuous pattern suture experimental group (CEG) (
n
 = 06). Incisional wounds (4 cm) were performed in the right flank of abdominal wall. In control group (CG), the abdominal muscles and peritoneum were sutured in one layer with simple interrupted pattern using PGA resorbable suture and the skin with commercial synthetic suture (nylon). Then, in experimental groups, closure of peritoneum, abdominal muscles, and skin was performed with one-layer pattern using translucent nylon fishing line. Daily scores were allocated for signs of infection, wound healing, and wound adhesion. A faster wound closure time was recorded in control group (9 days) compared to experimental groups (13 days). All study animals showed low adhesion scores that were very important in the muscular wall. Almost similar histopathology profiles were observed in all groups. This study has demonstrated that fishing line, as suture material, is suitable for mass abdominal closure in rabbit model.