30.05.2020 | Clinical Study | Ausgabe 2/2020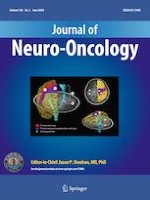 Assessment of unintended shifts during frame-based stereotactic radiosurgery using cone beam computed tomography image guidance
Zeitschrift:
Autoren:

Danushka S. Seneviratne, Austin R. Hadley, Jennifer L. Peterson, Timothy D. Malouff, Ronald Reimer, Steve M. Herchko, Byron May, Stephen Ko, Daniel M. Trifiletti, Laura A. Vallow
Wichtige Hinweise
Publisher's Note
Springer Nature remains neutral with regard to jurisdictional claims in published maps and institutional affiliations.
Abstract
Purpose
To investigate the frequency, magnitude and possible causes of frame-shifts that may occur between treatment planning and treatment delivery when performing Gamma Knife radiosurgery with rigid frame-based immobilization.
Methods
Differences between computed tomography (CT) framed fiducial stereotactic coordinate reference and cone beam computed tomography stereotactic coordinates after image registration were recorded for 49 frame-based GK radiosurgery cases performed using the Gamma Knife Icon. Parameters recorded include rotational shifts, translational shifts, and the GK-computed Maximum Shot Displacement (MSD) between the two stereotactic coordinate spaces. Other patient-specific parameters were collected and linear regression analysis was performed to evaluate predictors of increased displacement.
Results
The median values of rotational shifts were: pitch 0.14°, yaw 0.17°, and roll 0.13°. The median absolute values of translational shifts were: left–right 0.39 mm, anteroposterior 0.14 mm, and superior-inferior 0. 22 mm. The median value of MSD was 0.71 mm. Twelve cases (24.5%) had a MSD of greater than 1.0 mm. Male gender was associated with increased MSD (p = 0.013) and translational shifts (root-mean-squared value, p = 0.017). Cases with large differences between right and left sided pin lengths were also associated with increased MSD (p = 0.011).
Conclusions
The use of CBCT image guidance in frame-based GK radiosurgery allows unintended frame shifts to be identified and corrected. A significant fraction (24.5%) of patients had large enough shifts to result in a MSD of greater than 1.0 mm. Male gender and eccentrically placed frames were associated with increased MSD, and particular care should be taken in these cases.