01.12.2018 | Systematic review | Ausgabe 1/2018 Open Access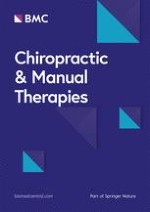 Assessment of variability in traction interventions for patients with low back pain: a systematic review
Zeitschrift:
Autoren:

Muhammad Alrwaily, Mohammed Almutiri, Michael Schneider
Abstract
Background
Previous systematic reviews have concluded that lumbar traction is not effective for patients with low back pain (LBP), yet many clinicians continue to assert its clinical effectiveness.
Objective
To systematically identify randomized controlled trials (RCTs) of traction and explore the variability of traction interventions used in each RCT.
Method
A literature search started in September 2016 to retrieve systematic reviews and individual RCTs of lumbar traction. The term "lumbar traction" and other key words were used in the following databases: Cochrane Registry, MEDLINE, EMBASE, and CINAHL. The retrieved systematic reviews were used to extract individual RCTs. The most current systematic review included RCTs from inception until August 2012. We performed an additional literature search to update this systematic review with newer RCTs published between September 2012 and December 2016. All of the identified RCTs were combined and summarized into a single evidence table.
Results
We identified a total of 37 traction RCTs that varied greatly in their method of traction intervention. The RCTs included several types of traction: mechanical (57%), auto-traction (16%), manual (10.8%), gravitational (8.1%) and aquatic (5.4%). There was also great variability in the types of traction force, rhythm, session duration and treatment frequency used in the RCTs. Patient characteristics were a mixture of acute, subacute and chronic LBP; with or without sciatica.
Conclusion
There is wide variability in the type of traction, traction parameters and patient characteristics found among the RCTs of lumbar traction. The variability may call into question the conclusion that lumbar traction has little no or value on clinical outcomes. Also, this variability emphasizes the need for targeted delivery methods of traction that match appropriate dosages with specific subgroups of patients with LBP.