19.01.2017 | Laboratory Investigation | Ausgabe 1/2017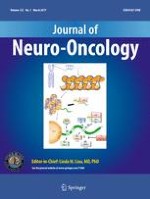 Assessment of vascularity in glioblastoma and its implications on patient outcomes
Zeitschrift:
Autoren:

Ben G. McGahan, Beth K. Neilsen, David L. Kelly, Rodney D. McComb, S. A. Jaffar Kazmi, Matt L. White, Yan Zhang, Michele R. Aizenberg
Wichtige Hinweise
Electronic supplementary material
The online version of this article (doi:
10.​1007/​s11060-016-2350-3
) contains supplementary material, which is available to authorized users.
Ben G. McGahan and Beth K. Neilsen contributed equally.
Abstract
There is little data on why glioblastomas (GBM) hemorrhage and how it may affect patient outcomes. The aim of this study was to investigate the mechanisms of hemorrhage in glioblastoma by examining molecular and genetic features by immunohistochemistry (IHC) and mRNA expression profiles in association with imaging and clinical outcomes. An observational retrospective cohort analysis was performed on 43 FFPE GBM tissue samples. MR images were assessed for the presence of hemorrhage and extent of resection. Specimens were examined for CD34 and CD105 expression using IHC. Tumor mRNA expression profiles were analyzed for 92 genes related to angiogenesis and vascularity. Forty-three specimens were analyzed, and 20 showed signs of hemorrhage, 23 did not. The average OS for patients with GBM with hemorrhage was 19.12 months (95% CI 10.39–27.84), versus 13.85 months (95% CI 8.85–18.85) in those without hemorrhage (p > 0.05). Tumors that hemorrhaged had higher IHC staining for CD34 and CD105. mRNA expression analysis revealed tumor hemorrhage was associated with increased expression of HIF1α and MDK, and decreased expression of F3. Hemorrhage in GBM was not associated with worsened OS. Increased expression of angiogenic factors and increased CD34 and CD105 IHC staining in tumors with hemorrhage suggests that increased hypoxia-induced angiogenesis and vessel density may play a role in glioblastoma hemorrhage. Characterizing tumors that are prone to hemorrhage and mechanisms behind the development of these hemorrhages may provide insights that can lead to the development of targeted, individualized therapies for glioblastoma.