07.01.2021 | Original Article | Ausgabe 7/2021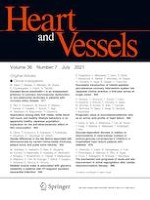 Association among daily fish intake, white blood cell count, and healthy lifestyle behaviors in an apparently healthy Japanese population: implication for the anti-atherosclerotic effect of fish consumption
Zeitschrift:
Autoren:

Shigemasa Tani, Kenji Kawauchi, Wataru Atsumi, Rei Matsuo, Tadashi Ashida, Kazuhiro Imatake, Yasuyuki Suzuki, Tsukasa Yagi, Atsuhiko Takahashi, Naoya Matsumoto, Yasuo Okumura
Wichtige Hinweise
Supplementary Information
Publisher's Note
Springer Nature remains neutral with regard to jurisdictional claims in published maps and institutional affiliations.
Abstract
Higher fish consumption has been reported to be associated with a lower incidence of coronary artery disease. We hypothesized that a higher frequency of fish intake may be associated with lower peripheral white blood cell (WBC) counts, a marker of chronic inflammation, which is known to be involved in the development of atherosclerotic cardiovascular disease (ASCVD), and a healthy lifestyle. This cross-sectional study was conducted between April 2018 and August 2018 at the Health Planning Center of Nihon University Hospital in a cohort of 4105 apparently healthy subjects. The average frequency of fish intake was 2.3 ± 1.3 days per week. The WBC count decreased significantly as the frequency of fish intake (0–2 days, 3–4 days, or 5–7 days per week) increased (
s
 < 0.0001). Multivariate linear regression analysis identified higher weekly frequency of fish intake as a significant independent determinant of a lower WBC count (β =  – 0.051,
p
 = 0.001). Furthermore, as the weekly frequency of fish intake increased, the proportion of habitual cigarette smokers decreased (
p
 = 0.021), that of subjects engaging in habitual aerobic exercises increased (
p
 < 0.0001), and the weekly alcohol intake frequency increased (
p
 < 0.0001). Moreover, the above-mentioned lifestyle behaviors were also independent determinants of the WBC count. These results suggest that a high frequency of fish intake might be associated with healthier lifestyle behaviors as well as lower WBC counts, and thus may both exert beneficial anti-inflammatory effects and represent a component of healthier lifestyle behaviors associated with a lower risk of ASCVD in Japanese. This association may be partially related to the preventive effects of a higher fish intake on ASCVD events.
Clinical Trial Registration