01.12.2014 | Research article | Ausgabe 1/2014 Open Access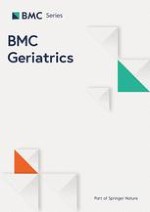 Association between anemia and falls in community-dwelling older people: cross-sectional results from the KORA-Age study
Zeitschrift:
Autoren:

Kathrin Thaler-Kall, Angela Döring, Annette Peters, Barbara Thorand, Eva Grill, Wolfgang Koenig, Alexander Horsch, Christa Meisinger
Wichtige Hinweise
Competing interests
The authors report no potential conflicts of interest.
Authors' contributions
KTK did the statistical analysis, generated all tables and drafted the manuscript. All calculations were checked and recalculated by CM to guarantee correctness. AD, AH and CM gave major suggestion on how to analyze and how to interpret the data and on the manuscript draft. All authors contributed to the design of the study and data collection. They also reviewed and edited the manuscript. All authors approved the final version of the manuscript.
Abstract
Background
Falls and fractures are among the principal causes of disability, and mortality of older people. Therefore, identifying treatable risk factors for falls in this population is very important. Here we evaluate the association between anemia and falls in community-dwelling people aged 65 years and older.
Methods
In 2009 967 community-dwelling people aged 65 years and older were included as part of the KORA-Age study. History of falls was assessed via questions derived from the National Health and Nutrition Examination Survey questionnaire. A non-fasting venous blood sample was obtained from all study participants. Anemia was defined as a hemoglobin level below 12 g/dL in women and below 13 g/dL in men according to the WHO criteria. Different logistic regression models were computed including relevant confounders such as sex, age, and disability to estimate Odds Ratios (OR) for falls.
Results
In the total sample there was no significant association between anemia and falls neither in the unadjusted (OR 1.35; 95% CI 0.87-2.09) nor in the multivariable-adjusted models (OR 1.06; 95% CI 0.66-1.70). The association between continuous hemoglobin levels and falls was significant in the unadjusted model (OR per 1 SD decrease 1.36; 95% CI 1.14-1.64), but after adjustment for age and sex the association was attenuated and lost its significance (OR 1.13; 95% CI 0.92-1.38). In age- and sex-stratified analyses, no significant associations between anemia or hemoglobin levels and falls could be found. However, in joint analysis in the total sample a significantly, more than two-fold increased risk was observed after multivariable adjustment in persons with anemia and disability (OR 2.10; 95% CI 1.12-3.93) in comparison to persons without anemia and disability.
Conclusions
In the present study we have not found an independent association between hemoglobin levels or anemia and falls in older people from the general population. Because there was an additive effect of anemia and disability on the occurrence of falls, blood count should be measured in disabled older men and women to identify persons, who are at particular high risk for falls.