01.02.2013 | Original Contribution | Ausgabe 1/2013 Open Access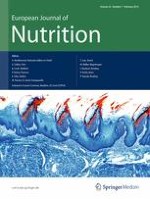 Association between dietary patterns and the risk of metabolic syndrome among Lebanese adults
Zeitschrift:
Autoren:

F. Naja, L. Nasreddine, L. Itani, N. Adra, A. M. Sibai, N. Hwalla
Wichtige Hinweise
F. Naja and L. Nasreddine contributed equally to this manuscript.
Introduction
The metabolic syndrome (MetS) refers to a cluster of cardiovascular and diabetes risk factors that identifies individuals at particularly high risk for these chronic diseases [
1
]. These risk factors include hyperglycemia, raised blood pressure, elevated serum triacylglycerols (TAG) levels, low high-density lipoprotein cholesterol levels, and obesity, particularly central adiposity [
2
]. In the Middle East region, the prevalence of MetS has increased significantly in recent years, and this increase has been attributed, for the most part, to rapid socioeconomic growth and change in lifestyle [
3
]. Among its neighboring countries, Lebanon—a small middle-income country on the Eastern shore of the Mediterranean sea—has unique characteristics that render the health of its population a complex challenge: a high urbanization rate (87%), fast decline in fertility and mortality rates, and a growing trend toward survival in later life, coupled with westernization and changes in lifestyle. A recent review paper showed that Lebanon has one of the highest estimated prevalence of MetS among adults in the region (31.2%) [
4
].
Several studies have been conducted underscoring the important role of dietary habits in influencing the risk of developing MetS, the majority of which, however, have focused on single nutrients or food items [
5
,
6
]. This conventional approach has several limitations mainly the interaction between nutrients, confounding by foods/nutrients not eaten and the problem of collinearity. To overcome these limitations, nutritional epidemiologists suggest studying dietary patterns as an alternative approach to evaluate diet-disease association [
7
]. This approach looks beyond the single nutrient or food and attempts to capture the broader picture of diet that is hypothesized to be linked to health and disease. Moreover, results from dietary patterns analyses are more helpful in disseminating diet-related messages to consumers that they may be more likely to adhere to rather than those related to single foods or nutrients [
8
].
Although few studies have investigated the association of dietary patterns with MetS in various populations, there is still no consensus as to which dietary patterns would confer the lowest risk of MetS [
9
–
12
]. In the East Mediterranean region, studies evaluating this association are scarce. Using data from a recent nation-wide population-based survey of Lebanese adults, this study aims to identify and characterize the various dietary patterns among Lebanese adults and to examine the association of these dietary patterns with the risk of MetS and its various metabolic abnormalities. Findings from the study could inform prevention strategies as well as prognosis among subjects with high risk of MetS.
Methods
Results
Discussion
In this study population, we identified three major dietary patterns by means of factor analysis: Fast Food/Dessert, Traditional Lebanese, and High Protein. Consumption of the Fast Food/Dessert pattern was associated with an increased risk of hyperglycemia and metabolic syndrome. A positive association between the High Protein pattern and hypertension was also found.
Conclusion
Our results suggested that a Fast Food/Dessert type of diet is associated with higher likelihood of MetS, hypertension, and hyperglycemia, while a diet high in meat, poultry, and fish was associated with an elevated blood pressure. These findings lay grounds for planning intervention strategies that are culture based and in line with local dietary habits.
Acknowledgments
The study was funded by the Training Programs in Epidemiology and Public Health Interventions Network (TEPHINET). Additional funds were contributed by the World Health Organization (WHO-Lebanon) and the Lebanese National Council for Scientific Research (LNCSR). Funders had no role in the study design, data collection, analysis, interpretation and reporting, and in the decision to submit the paper for publication.
Conflict of interest
All authors have no conflict of interest.
Open Access
This article is distributed under the terms of the Creative Commons Attribution Noncommercial License which permits any noncommercial use, distribution, and reproduction in any medium, provided the original author(s) and source are credited.
Appendix 1
See Table
6
.
Table 6
Food groupings used in the dietary pattern analysis
| Food group | Components |
| --- | --- |
| Alcoholic beverages | Non-wine alcoholic beverages, beer, wine |
| Traditional sweets | All kinds of traditional sweets including baklava, ma'amoul, knafeh, and traditional ice cream |
| Breakfast cereals | Regular corn flakes |
| Butter | Butter and ghee |
| Carbonated beverages and juices | Sodas and all kinds of bottled juices |
| Chawarma | Chawarma sandwiches |
| Chicken | All kinds of poultry (broiled, fried, and boiled) |
| Dairy products-low fat | Half-skimmed milk, low-fat cheese, low-fat yogurt |
| Dairy products-full | Whole milk, whole-fat cheese, lebneh, whole-fat yogurt. |
| Desserts | Cakes, cookies, muffin, doughnut, honey, jams, chocolate. |
| Eggs | Eggs both boiled and fried |
| Falafel | Falafel sandwiches |
| Fish | Fish both fried and broiled |
| Fruits | Deep yellow orange fruits, bananas and apples, strawberries, citrus fruits, grapes, fresh fruit juices |
| Grains | Bread whole and refined, rice and rice products, pasta, crushed parboiled wheat |
| Hamburger | All types of hamburger sandwiches |
| Hot drinks | Turkish coffee, instant coffee, cocoa, and tea |
| Legumes | All kinds of legumes like beans, lentils, chickpeas, fava beans, and peas |
| Mayonnaise | All kinds of mayonnaise and mayonnaise-based salad dressing |
| Meat | Ovine, caprine, suine, and bovine meats, except for shawarma |
| Nuts and dried fruits | Nuts, both raw and roasted, dried raisin, prunes, and apricots |
| Olives | All kinds of pickled olives |
| Pizza and pies | Pizza, manaeesh with cheese, and thyme (manaeesh is the Lebanese version of the pizza dough) |
| Vegetable oil | Vegetable oil |
| Vegetables | Dark green and yellow vegetables, tomato, salad season, zucchini and eggplant, cauliflower, and potato |
Appendix 2
See Table
7
.
Table 7
Factor loading matrices for the three identified patterns among respondents (
n
= 323) and non-respondents (
n
= 1008)
Respondents

Non-respondents

Fast food/dessert

Traditional Lebanese

High protein

Fast food/dessert

Traditional Lebanese

High protein

Hamburger

–

–

–

–

Chawarma

–

–

–

–

Pizza and pies

–

–

–

–

Falafel Sandwiches

–

–

–

–

Desserts

0.23

–

–

–

Carbonated beverages and juices

–

–

–

Mayonnaise

–

–

–

–

Butter

0.22

–

–

0.21

–

Alcoholic beverages

0.20

–

–

–

–

Dairy products-full fat

–

–

–

–

Olives

–

–

–

–

Fruits

−0.22

0.21

–

Legumes

–

–

–

Grains

0.27

–

–

–

Eggs

0.21

–

–

–

Vegetable oil

–

–

–

–

Nuts and dried fruits

0.27

–

–

–

Traditional sweets

–

–

–

–

Vegetables

–

0.34

–

–

0.26

–

Fish

–

–

–

–

Chicken

0.21

–

–

–

Meat

0.22

–

–

–

Dairy products-low fat

–

−0.29

–

–

Breakfast cereals

–

–

0.23

–

–

0.24

Hot drinks

–

–

–

–

0.23

–

Percent variance explained by each pattern

13.11

9.71

7.80

15.56

7.44

6.43