21.01.2020 | Original Article | Ausgabe 2/2020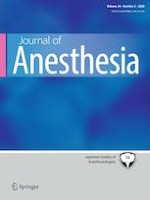 Association between intraoperative hypotension and postoperative myocardial injury in patients with prior coronary stents undergoing high-risk surgery: a retrospective study
Zeitschrift:
Autoren:

Sang Hyun Lee, Jie Ae Kim, BurnYoung Heo, Young Ri Kim, Hyun Joo Ahn, Mikyung Yang, Jaeni Jang, Soohyun Ahn
Wichtige Hinweise
Electronic supplementary material
This was presented as an oral presentation at the annual meeting of the American Society of Anesthesiologists in 2018. This study was performed at Samsung Medical Center.
Publisher's Note
Springer Nature remains neutral with regard to jurisdictional claims in published maps and institutional affiliations.
Abstract
Purpose
We conducted a single-center retrospective study to evaluate the effects of intraoperative hypotension (IOH) on postoperative myocardial injury during major noncardiac surgery in patients with prior coronary stents with preoperatively normal cardiac troponin I levels. Although IOH is assumed to increase the risk of postoperative myocardial injury in patients with prior coronary stents, the level and duration of hazardous low blood pressure have not been clarified.
Methods
Of 2517 patients with prior coronary stents undergoing noncardiac surgery between January 2010 and March 2017, we analyzed 195 undergoing major surgery (vascular, abdominal, and thoracic surgery) who had a normal preoperative high-sensitivity cardiac troponin I (hs-cTnI) level and were followed up postoperatively within 3 days. Postoperative myocardial injury was defined as a hs-cTnI level greater than the 99th percentile reference value. Primary IOH exposure was defined as a decrease of ≥ 50%, 40%, or 30% from the preinduction mean blood pressure. Additional definition of IOH was absolute mean blood pressure < 70, < 60 or < 50 mmHg. Multivariate logistic regression was used to model the exposure and myocardial injury.
Results
Myocardial injury occurred in 53 (27.2%) cases. The predefined levels of IOH were not significantly associated with postoperative myocardial injury, but intraoperative continuous inotropes/vasopressors use was significantly higher in patients with myocardial injury (
P
 = 0.004). Operation time ≥ 166 min (OR = 2.823, 95% CI 1.184–6.731,
P
 = 0.019) and abdominal vascular surgery (OR = 2.693, 95% CI 1.213–5.976,
P
 = 0.015) were independent risk factors for myocardial injury.
Conclusion
Although patients with prior coronary stents with normal hs-cTnI levels did not show association between varying levels of IOH and postoperative myocardial injury after noncardiac surgery, intraoperative need of continuous inotropes/vasopressors was higher in patients with postoperative myocardial injury. Abdominal vascular surgery and surgical time were independent risk factors for myocardial injury after surgery.