01.12.2016 | Original research | Ausgabe 1/2016 Open Access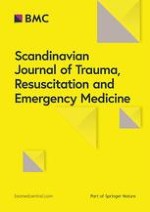 Association between off-hour presentation and endotracheal-intubation-related adverse events in trauma patients with a predicted difficult airway: A historical cohort study at a community emergency department in Japan
Autoren:

Yuko Ono, Takuya Sugiyama, Yasuyuki Chida, Tetsuya Sato, Hiroaki Kikuchi, Daiji Suzuki, Masakazu Ikeda, Koichi Tanigawa, Kazuaki Shinohara
Wichtige Hinweise
Electronic supplementary material
The online version of this article (doi:
10.​1186/​s13049-016-0296-2
) contains supplementary material, which is available to authorized users.
Abstract
Background
A reduction in medical staff such as occurs in hospitals during nights and weekends (off hours) is associated with a worse outcome in patients with several unanticipated critical conditions. Although difficult airway management (DAM) requires the simultaneous assistance of several appropriately trained medical caregivers, data are scarce regarding the association between off-hour presentation and endotracheal intubation (ETI)-related adverse events, especially in the trauma population. The aim of this study was to determine whether off-hour presentation was associated with ETI complications in injured patients with a predicted difficult airway.
Methods
This historical cohort study was conducted at a Japanese community emergency department (ED). All patients with inhalation burn, comminuted facial trauma (Abbreviated Injury Scale Score Face ≥3), and penetrating neck injury who underwent ETI from January 2007 to January 2016 in our ED were included. Primary exposure was off-hour presentation, defined as the period from 6:01 PM to 8:00 AM weekdays plus the entire weekend. The primary outcome measure was the occurrence of an ETI-related adverse event, including hypoxemia, unrecognized esophageal intubation, regurgitation, cardiac arrest, ETI failure rescued by emergency surgical airway, cuff leak, and mainstem bronchus intubation.
Results
Of the 123 patients, 75 (61.0 %) were intubated during off hours. Crude analysis showed that off-hour presentation was significantly associated with an increased risk of ETI-related adverse events [odds ratio (OR), 2.5; 95 % confidence interval (CI), 1.1–5.6;
p
 = 0.033]. The increased risk remained significant after adjusting for potential confounders, including operator being an anesthesiologist, use of a paralytic agent, and injury severity score (OR, 3.0; 95 % CI, 1.1–8.4;
p
 = 0.034).
Conclusions
In this study, off-hour presentation was independently associated with ETI-related adverse events in trauma patients with a predicted difficult airway. These data imply the need for more attentive hospital care during nights and weekends.