01.12.2018 | Research | Ausgabe 1/2018 Open Access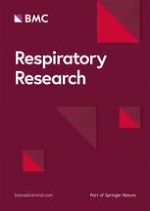 Association between oncogenic status and risk of venous thromboembolism in patients with non-small cell lung cancer
Zeitschrift:
Autoren:

Feifei Dou, Huiqiao Li, Min Zhu, Lirong Liang, Yuan Zhang, Jiawen Yi, Yuhui Zhang
Abstract
Background
Preclinical data suggest that oncogene (EGFR and KRAS) events regulate tumor procoagulant activity. However, few studies have prospectively investigated the clinical relevance between the presence of EGFR or KRAS mutations and occurrence of venous thromboembolism(VTE) in patients with non-small cell lung cancer (NSCLC).
Methods
A total of 605 Chinese patients with newly diagnosed NSCLC were included and were followed for a maximum period of 4.5 years. EGFR and KRAS mutations were determined by amplification refractory mutation system polymerase chain reaction method at inclusion. The main outcome was objectively confirmed VTE.
Results
Of the 605 patients, 40.3% (244) had EGFR mutations and 10.2% (62) of patients had KRAS mutations. In multivariable analysis including age, sex, tumor histology, tumor stage, performance status, EGFR and KRAS status, EGFR wild-type (sub-distribution hazard ratio 1.81, 95% confidence interval 1.07–3.07) were associated with the increased risk of VTE. In competing risk analysis, the probability of developing VTE was 8.3% in those with and 13.2% in those without EGFR mutations after 1 year; after 2 years, the corresponding risks were 9.7 and 15.5% (Gray test
P
 = 0.047).
Conclusions
EGFR mutations have a negative association with the risk of VTE in Chinese patients with NSCLC.