01.12.2017 | Research | Ausgabe 1/2017 Open Access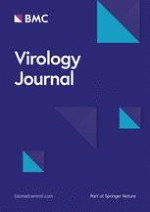 Association between sensitivity of viral thymidine kinase-associated acyclovir-resistant herpes simplex virus type 1 and virulence
Zeitschrift:
Autoren:

Natsumi Omura, Hikaru Fujii, Tomoki Yoshikawa, Souichi Yamada, Shizuko Harada, Takuya Inagaki, Miho Shibamura, Haruko Takeyama, Masayuki Saijo
Abstract
Background
Acyclovir (ACV)-resistant (ACVr) herpes simplex virus type 1 (HSV-1) infections are concern in immunocompromised patients. Most clinical ACVr HSV-1 isolates have mutations in the viral thymidine kinase (vTK) genes. The vTK-associated ACVr HSV-1 shows reduced virulence, but the association between the level of resistance and the virulence of the vTK-associated ACVr HSV-1 is still unclear.
Methods
The virulence in mice of 5 vTK-associated ACVr HSV-1 clones with a variety of ACV sensitivities, when inoculated through intracerebral and corneal routes, was evaluated in comparison with ACV-sensitive (ACVs) parent HSV-1 TAS.
Results
Although all the 5 ACVr HSV-1 clones and ACVs HSV-1 TAS showed a similar single-step growth capacity in vitro, the virulence of ACVr HSV-1 clones significantly decreased. A 50% lethal dose (LD50) of each clone was closely correlated with 50% inhibitory concentrations (IC50), demonstrating that the higher the ACV-sensitvity, the the higher the virulence among the ACVr clones. One of the ACVr HSV-1 clones with a relatively low IC50 value maintained similar virulence to that of the parent TAS. The infection in mice with ACVr HSV-1 due to a single amino acid substitution in vTK induced local diseases, keratitis and dermatitis, while vTK-deficient clone did not.
Conclusions
A statistically significant correlation between the virulence and susceptibility to ACV among ACVr HSV-1 clones was demonstrated.