01.12.2012 | Research article | Ausgabe 1/2012 Open Access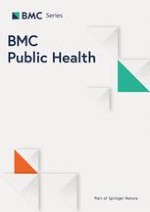 Association between stigma, depression and quality of life of people living with HIV/AIDS (PLHA) in South India – a community based cross sectional study
Zeitschrift:
Autoren:

Bimal Charles, Lakshmanan Jeyaseelan, Arvind Kumar Pandian, Asirvatham Edwin Sam, Mani Thenmozhi, Visalakshi Jayaseelan
Wichtige Hinweise
Competing interests
The authors declare that they have no competing interests.
Authors' contributions
BC designed and coordinated the study, performed analyses and wrote the manuscript. LJ, AKP and AES contributed to the study design, data analysis, and interpretation of results and preparation of manuscript. MT and VJ contributed to data analysis and results interpretation. All authors read and approved the final manuscript.
Background
The provisional estimates in 2008 suggest an adult HIV prevalence of 0.29 per cent, amounting to 2.27 million people with HIV in India [
1
]. According to the National AIDS Control Organization's (NACO) sentinel surveillance, the state of Tamil Nadu has the highest number of reported cases of AIDS. A large proportion of whom are increasingly accessing antiretroviral therapy [
1
]. People living with HIV/AIDS (PLHA) face several challenges in terms of the medical management of their disease. Alongside this are stigma, discrimination and psychosocial issues associated with HIV infection. HIV and AIDS related stigma is socially shared knowledge about the devalued status of people living with HIV that means treating someone as unimportant [
2
]. It is manifested in prejudice, discounting, discrediting and discrimination directed at people perceived to have HIV, along with the groups and communities to which they are associated. Literature revealed a higher level of stigma among PLHA in India [
3
–
8
]. A study showed that both PLHA and leprosy-affected people faced a substantial burden of internalized and perceived stigma, with the former reporting a significantly higher level [
8
]. Many instances of discriminatory behavior such as denial of hospital care, expulsion from the home and profession were also reported [
9
,
10
]. In Indian hospitals, stigma and discrimination manifested as health workers informing family members of HIV positive person's status without consent, burning their bedding upon discharge, charging them more, and using gloves during all interactions [
11
]. A recent study found that enacted and internalized stigmas among PLHA were related to delays in seeking care [
12
]. The factors that contribute to HIV stigma and discrimination include, fear of transmission, fear of suffering and death and the burden of caring for PLHA [
13
]. Stigma thus, prevents HIV positive persons from disclosing their status to family, care providers, and sexual partners which also contributes to non-adherence to antiretroviral therapy [
4
,
14
].
Stigma has been shown to be associated with stress, depression and a lower quality of life (QOL) among PLHA [
15
–
17
]. Felt and internalized stigma has been associated with higher levels of depression [
4
,
18
,
19
]. A study indicated that enacted stigma, internalized stigma, and disclosure avoidance were all associated with symptoms of depression [
20
]. It is evident that depression and anxiety are commonly associated with HIV infection [
21
]. Depression is also reported as a well-recognized side effect of antiretroviral therapy (ART) in HIV infection [
22
]. Depression was reported to be present in 40% of HIV positive heterosexuals. The presence of pain, concurrent alcohol abuse, poor family relations and HIV positive status of the spouse were significantly associated with depression, anxiety and suicidal ideation [
23
]. Faster progression to AIDS was associated with more cumulative stressful life events, more cumulative depressive symptoms and less cumulative social support [
24
]. Also, chronic depression, stressful events and trauma are greatly associated with decreased CD4 T lymphocytes, increased viral load and mortality [
25
]. Apart from these, nervous system infection with HIV-1 can also produce a range of clinical disorders such as dementia, myelopathy and sensory neuropathies. However, these debilitating disorders generally do not develop until advanced stages of HIV infection [
26
,
27
].
HIV/AIDS stigma can severely compromise the quality of life (QOL) of people living with this condition by reducing access and quality of care. This affects adherence to therapy and thereby potentially increases the risk of transmission [
28
]. Some studies from India have reported the association between stigma and the Quality of Life (QOL). A clinic based study reported that internalizing of stigma had a significant negative correlation with QOL in the psychological domain and environmental domain [
6
]. PLHA experiencing higher stigma obtained lower scores in the psychological, environmental and Spirituality/Religious/Personal belief (SRPB) domains of the quality life [
29
]. Another clinic based study reported that each type of stigma was associated with each domain of QOL [
5
]. In India, the educational level of PLHA was significantly associated with the psychological domain of QOL; occupation and better family support of PLHA were significantly associated with the environmental domain of QOL [
30
]. Among PLHA, women were reported to have the poorest QOL but this was reported to have improved over time due to treatment [
31
]. However, none of the studies from India have explored the association between stigma, depression and QOL in PLHA. Interventions to facilitate HIV positive persons to effectively cope with HIV associated stigma are urgently required in India. Nevertheless, there is a dearth of information that specifies the need to develop such interventions. Based on the above review, we hypothesized that "severe stigma", would be associated with severe depression and these both collectively or individually would correlate with QOL in PLHA. The objective of this study was to determine the prevalence of severe stigma and to study the association between stigma and depression on quality of life of PLHA in Tamil Nadu.
Methods
Sample size
The prevalence of severe stigma in PLHA was reported to be 23.6% (Manhart L, Kumar S, Mohanraj R and Jeyaseelan L, 2008[Unpublished Data]). Assuming a similar prevalence, 400 PLHA were studied. Based on 95% confidence interval, these 400 participants would give a precision of 4.16%.
Sampling strategy
The study was conducted in seven Intensive Intervention Districts of the USAID supported AIDS Prevention and Control Project (APAC) in Tamil Nadu. The list of registered PLHA in these districts was obtained from the ART centres, PLHA network and NGOs of respective districts that served as a sampling frame. Probability proportionate to size (PPS) method was adopted to select the samples. The number of PLHA in each district (denominator) and the potential number to be selected from each district (denominator) are presented as follows. Kancheepuram (36/2599); Kanyakumari (21/1519); Karur (33/2397); Villupuram (41/2999); Trichy (176/12904); Thirunelveli (63/4632); Tuticorin (30/2209). Within each district a consecutive sample of PLHA who consented to participate in the study were recruited.
Inclusion and exclusion criteria
PLHA aged between 18–60 years and who consented to participate were included in the study. PLHA who were too sick to answer the questions were not included in the study.
Instruments
Data were collected by qualified and trained investigators using a structured interview schedule. The interview schedule contained questions on socio-demographic variables such as the age, sex (1.Male, 2.Female), religion (1. Hindu, 2.Muslim, 3.Christian), marital status (1.Unmarried, 2.Married, 3. Separated/Widowed), education (1.non-literate, 2.Primary, 3. High school and above), occupation (1.Casual labourer, 2.Agriculture, 3.Skilled and Semiskilled, 4.Sex work, 5.Others), personal income per month, alcohol intake (1.every day or 2-3times a week, 2.At least once a week, 3. Did not drink in the last 4 weeks, 4.Never), and current status of relationship with whom the study participant is living with (1.alone, 2.with parents, 3. with parents and children, 4.others). The instruments were translated from English into the local language (Tamil) and back translated to English.
Stigma
Stigma was measured using the Berger scale [
32
]. This 40-item four point scale groups stigma into the following 4 categories, personalized stigma (self-stigma); perceived public attitude (concern with public attitude about people with HIV); disclosure concerns and negative self-image (internalized negative self-image). The scores are scaled in the positive direction (higher the score higher the stigma). Personalized stigma had items that assessed whether PLHA had experienced rejection, loss of employment, and discrimination and therefore stopped socializing. Negative self-image had items that assessed the fear of being stigmatized, concerns about people's reactions towards people with HIV, individual beliefs and feeling guilty. Public attitude had items that indicated public reactions towards HIV; for instance, the public view that a HIV person is dirty and disgusting, and other attitudes of discrimination that included normal people treating PLHA like outcasts. Disclosure concerns had items which assessed anxiety and fear of disclosing their HIV status. The scale was pilot tested for its reliability in this cultural setting. The internal reliability (Cronbach's Alpha) was 0.79. In this study, each domain and the overall stigma scores were categorized into three categories such as no or mild, moderate and severe stigma using the 33
rd
and 66
th
percentile cut off values from the distribution of scores. This categorization was exclusively done for this study.
Depression
Depression was measured using the Major Depression Inventory (MDI), which is a diagnostic tool [
33
,
34
]. This self-rating scale was developed by the World Health Organization and consists of 10 items measuring the severity of depressive states. The items are rated on a 6 point Likert scale ranging from 0 (symptom has not been present at all) to 5 (symptom has been present all the time) and individuals are categorized as normal, mild, moderate or severe. The criteria for classification are provided in the above reference. In the analyses, depression was classified as severe and others. A total MDI score of 30 or above was considered as severe depression. For reliability, test retest reliability over time (with a break of 2 weeks) and across items was done with 20 PLHA. The investigators were trained by Clinical Psychologists.
Quality of life
Quality of life was measured using the WHO BREF scale with 26 items [
35
]. This instrument has 4 domains, which are physical, psychological, social and environmental. The physical domain has 7 items which included questions about the presence of pain and discomfort, dependence on substances or treatments, energy and fatigue, mobility, sleep and rest; activities of daily living; perceived working capacity. The psychological domain has areas such as negative self-concept, cognitive functions, body image and spirituality. The social domain has 3 questions which are about social contacts, family support, ability to look after family and sexual activity. The environment domain has 8 items, which are freedom, quality of home environment, physical safety and security and financial status, involvement in recreational activity, health and social welfare, health and social care and quality and accessibility. The domain scores were scaled in a positive direction, implying that higher the score, higher the quality of life. A total score for each domain and an overall QOL score were calculated. The distributions of the domain and over all scores were divided into three groups such as, poor, moderate and good quality of life based on the 33
rd
and 66
th
percentile cut off values. The instruments were pilot tested with 20 participants, who were not included in the main study. Each interview took nearly 40 to 50 minutes.
Data analyses
SPSS 16.0 was used for analyses. In addition to descriptive analyses, bivariate analyses were carried out to determine the association between the socio demographic variables, HIV program related variables and outcome variables that are Stigma, Depression and QOL. The variables which were significant at p < .40 were considered as potential risk factors for multivariate analyses. However, the different domains of stigma and access to ART were included in the model irrespective of their significance. Enter method was used to obtain odds ratio and 95%CI. Hosmer and Lemeshow chi-square test were used to assess the Goodness of fit of the model. Cox and Snell R2 were used.
Reliability of instruments
In the Berger scale, the overall internal consistency (Cronbach's alpha) for the entire 40-item scale was 0.79. The Cronbach's alpha for self, public attitude, disclosure and negative stigma was .76, .79, .62 and .85 respectively. The test and retest reliability for the overall 40 items was 0.89. In QOL, the overall internal consistency was .81. This was .75, .82, .85, and .79 for physical, psychological, social and environmental domains. The test retest reliability was .83.
Adherence to ethical standards
The study protocol conformed to the Declaration of Helsinki and Indian Council of Medical Research (ICMR) ethical guidelines. The ethical approval was obtained from Institutional Review Board of Christian Medical College and Hospital, Vellore, India.
Results
Discussion
This study found an association between different forms (personalized and negative) of stigma and severe depression. Severe depression was also associated with poor QOL. Though the study design did not allow us to prove casual association between stigma and poor quality of life, PLHA who experienced severe depression due to severe stigma were probably the PLHA who experienced poor quality of life. This calls for intensive social and psychological interventions among them.
Conclusions
In summary, this community based study found a prevalence of severe stigma of 27%. Severe depression and poor overall QOL were 12% and 34% respectively. Personalized and negative stigma were significantly associated with severe depression. A high level of social support was associated with a high level of QOL. Accessing ART service was significantly associated with severe stigma and poor QOL. It may be concluded that, ensuring high quality comprehensive services at the ART centres and a high level of social support for the PLHA are vital and would lead to a decrease in depression and an increase in QOL.
Acknowledgements
The authors are grateful to all the participants in the study. The authors thank USAID for providing financial assistance to the AIDS Prevention and Control Project, through which the study was carried out.
Competing interests
The authors declare that they have no competing interests.
Authors' contributions
BC designed and coordinated the study, performed analyses and wrote the manuscript. LJ, AKP and AES contributed to the study design, data analysis, and interpretation of results and preparation of manuscript. MT and VJ contributed to data analysis and results interpretation. All authors read and approved the final manuscript.