01.07.2019 | Original Article | Ausgabe 4/2019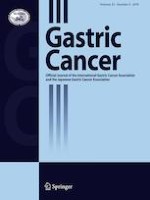 Association between
UGT1A1

gene polymorphism and safety and efficacy of irinotecan monotherapy as the third-line treatment for advanced gastric cancer
Zeitschrift:
Autoren:

Toshifumi Yamaguchi, Satoru Iwasa, Hirokazu Shoji, Yoshitaka Honma, Atsuo Takashima, Ken Kato, Tetsuya Hamaguchi, Kazuhide Higuchi, Narikazu Boku
Wichtige Hinweise
Publisher's Note
Springer Nature remains neutral with regard to jurisdictional claims in published maps and institutional affiliations.
Abstract
Background
While uridine diphosphate glucuronosyltransferase (UGT) 1A1 is a key enzyme in the metabolism of irinotecan, relationship between
UGT1A1
genotype and safety and efficacy of irinotecan monotherapy in patients with advanced gastric cancer is not clarified.
Methods
Efficacy and safety in advanced gastric cancer patients, who were tested for
UGT1A1
*6 and *28 genotype and treated with irinotecan monotherapy as third-line treatment from 2009 to 2014, were evaluated according to the
UGT1A1
*6 and *28 genotypes.
Results
Among 74 patients of the subjects, the genotypes of UGT1A1 were wild-type (WT) in 37 patients (50%), single heterozygosity (SH) in 27 (36.5%) and double heterozygosity or homozygosity (Homo/DH) in 10 (13.5%). The initial dose of irinotecan was reduced in 10 patients (27%) with WT, in 9 (33%) with SH, and in 7 (70%) with Homo/DH. Median overall survival was 6.9 months, 6.3 months, and 2.8 months in the WT, SH and Homo/DH genotypes, associated with median time to treatment failure of 2.4 months, 2.3 months, and 1.3 months, respectively. Among 36 patients with measurable lesion, disease control rates were 47.6%, 41.7% and 33.3% in the WT, SH and Homo/DH genotypes. Grade 3 or higher adverse events of special interest were neutropenia (13%, 22%, and 64% for the WT, SH and Homo/DH genotypes), febrile neutropenia (2%, 7%, and 50%) and diarrhea (6%, 5%, and 21%).
Conclusions
The
UGT1A1
polymorphism may be related to the clinical outcomes of irinotecan monotherapy as the third-line treatment for advanced gastric cancer.