03.01.2019 | Original Article | Ausgabe 2/2019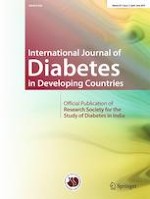 Association of apolipoprotein A-V with mRNA expression of IL-6 and NF-κB genes in type 2 diabetes with hypertriglyceridemia: a possible link with inflammation
Autoren:

Devesh Sharma, Seema Garg, Mohit Mehndiratta, S. V. Madhu, Dinesh Puri
Wichtige Hinweise
Publisher's Note
Springer Nature remains neutral with regard to jurisdictional claims in published maps and institutional affiliations.
Abstract
Background
Hypertriglyceridemia and inflammation are implicated in cardiovascular complications in type 2 diabetes mellitus (T2DM). While some studies have evaluated apolipoprotein A-V protein (Apo A-V) in diabetes and its effect on triglycerides (TG) levels, only a few have explored its relation with inflammatory markers.
Objectives
To evaluate the expression of mRNA genes involved in inflammatory response (IL-6 and NF-κB) and to study their association with Apo A-V in patients of T2DM, with and without hypertriglyceridemia.
Methods
Two groups of T2DM patients, comprising of 40 participants each, were constituted according to NCEP ATP III criteria for CVD risk: group 1/controls (TG ≤ 1.65 mmol/l) and group 2/cases (TG ≥ 2.2 mmol/l). Serum levels of Apo A-V, free fatty acids (FFA) and IL-6 were estimated. Fold change in mRNA expression of IL-6 and NF-κB (p65) gene in blood was calculated by ΔΔCT method.
Observations
The mRNA expression of IL-6 and p65 was higher in cases. Significant inverse association of Apo A-V levels was observed with expression of p65 gene (
p
 = 0.000) and IL-6 gene (
p
 = 0.003) in all subjects. FFA levels also correlated inversely with the expression of p65 (
p
 = 0.001) and IL-6 (
p
 = 0.005) mRNA. The association of FFA levels and ApoA-V with mRNA expression of IL-6 and p65 genes was independent of each other.
Conclusion
This study highlights that inflammatory pathways are unregulated in hypertriglyceridemia in T2DM. Also, apart from its association with TG levels, Apo A-V may have an anti-inflammatory role as evident from its inverse association with the expression of IL-6 and NF-κB expression. Thus, Apo A-V may provide an important link between TGs, inflammation, and vascular complications in T2DM.