02.12.2020 | Original Article | Ausgabe 6/2020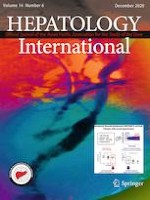 Association of arterial stiffness with the histological severity of nonalcoholic fatty liver disease
Zeitschrift:
Autoren:

Hack-Lyoung Kim, Bo Kyung Koo, Sae Kyung Joo, Won Kim
Wichtige Hinweise
Electronic supplementary material
Hack-Lyoung Kim and Bo Kyung Koo contributed equally to this work.
Publisher's Note
Springer Nature remains neutral with regard to jurisdictional claims in published maps and institutional affiliations.
Abstract
Background
Although arterial stiffness has been reported to be associated with nonalcoholic fatty liver disease (NAFLD), previous studies have relied only on noninvasive assessments for the diagnosis of NAFLD. This study attempted to investigate the association of arterial stiffness with the histological severity of NAFLD.
Methods
We analyzed data from a biopsy-proven prospective NAFLD cohort. Augmentation index corrected for a heart rate of 75 bpm (AI@75) was obtained using applanation tonometry of the radial artery.
Results
A total of 154 patients (mean age 55.2 years; females 55.8%) with biopsy-proven NAFLD were analyzed. Patients with higher AI@75 (≥ 76%) showed more severe grades of lobular and portal inflammation and hepatocellular ballooning, and more advanced stages of fibrosis compared to those with lower AI@75 (< 76%) (
p
 < 0.05 for each). The presence of nonalcoholic steatohepatitis (NASH) (adjusted odds ratio [aOR] 2.48; 95% confidence interval [CI] 1.31–6.16;
p
 = 0.008), lobular inflammation (aOR 2.03; 95% CI 1.09–3.78;
p
 = 0.025) hepatocellular ballooning (aOR 2.82; 95% CI 1.23–6.43;
p
 = 0.014), and significant fibrosis (≥ F2) (aOR 3.42; 95% CI 1.50–7.79;
p
 = 0.003) were independently associated with higher AI@75 (≥ 76%) even after adjustment for confounders.
Conclusion
Arterial stiffness as indicated by higher AI@75 was associated with more severe NAFLD histology. This adds to the evidence for the association between increased arterial stiffness and NAFLD.