12.02.2019 | Original Article | Ausgabe 4/2019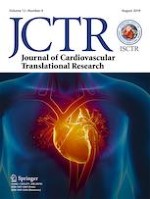 Association of Genetic Polymorphisms in the Beta-1 Adrenergic Receptor with Recovery of Left Ventricular Ejection Fraction in Patients with Heart Failure
Zeitschrift:
Autoren:

Jasmine A. Luzum, Joseph D. English, Umair S. Ahmad, Jessie W. Sun, Benjamin D. Canan, Wolfgang Sadee, Joseph P. Kitzmiller, Philip F. Binkley
Wichtige Hinweise
Associate Editor Paul J. R. Barton oversaw the review of this article
Electronic supplementary material
In sorrow, we would like to dedicate this work to our friend and co-author, Joseph P. Kitzmiller. Dr. Kitzmiller passed away on October 3, 2018, shortly before our submission of this paper.
Publisher's Note
Springer Nature remains neutral with regard to jurisdictional claims in published maps and institutional affiliations.
Abstract
Two common genetic polymorphisms in the beta-1 adrenergic receptor (
ADRB1
Ser49Gly [rs1801252] and Arg389Gly [rs1801253]) significantly affect receptor function in vitro. The objective of this study was to determine whether
ADRB1
Ser49Gly and Arg389Gly are associated with recovery of left ventricular ejection fraction (LVEF) in patients with heart failure. Patients with heart failure and baseline LVEF ≤ 40% were genotyped (
n
 = 98), and retrospective chart review assessed the primary outcome of LVEF recovery to ≥ 40%. Un/adjusted logistic regression models revealed that Ser49Gly, but not Arg389Gly, was significantly associated with LVEF recovery in a dominant genetic model. The adjusted odds ratio for Ser49 was 8.2 (95% CI = 2.1–32.9;
p
 = 0.003), and it was the strongest predictor of LVEF recovery among multiple clinical variables. In conclusion, patients with heart failure and reduced ejection fraction that are homozygous for
ADRB1
Ser49 were significantly more likely to experience LVEF recovery than Gly49 carriers.