01.03.2013 | Regular Article | Ausgabe 2/2013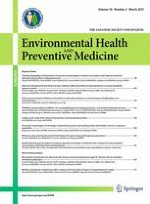 Association of genotypes of carcinogen-metabolizing enzymes and smoking status with bladder cancer in a Japanese population
Zeitschrift:
Autoren:

Xiaoyi Cui, Xi Lu, Mizue Hiura, Hisamitsu Omori, Wataru Miyazaki, Takahiko Katoh
Abstract
Objectives
Arylamines are considered to be the primary causative agent of bladder cancer in tobacco smokers. To test the hypothesis that variation in the genes that metabolize tobacco carcinogens contribute to bladder cancer, we examined the effects of single nucleotide polymorphisms in the genes of four key enzymes:
cytochrome P450
1A2
,
N
-
acetyltransferase
(
NAT
)
2
,
sulfotransferase
1A1
, and
UDP
-
glucuronosyltransferase
(
UGT
)
2B7
.
Methods
In this study, 282 Japanese patients with transitional cell carcinoma, the most common bladder cancer, and 257 healthy controls were surveyed and compared for frequencies of the genotypes of the four enzymes. Genotypes were determined using PCR-restriction fragment length polymorphism and TaqMan assays. Smoking information was collected by personal interview. Logistic regression analysis and the chi-square test were employed as statistical methods.
Results
The
NAT2
slow genotype was significantly associated with the risk of bladder cancer [odds ratio (OR) 3.41, 95 % confidence interval (95 % CI) 1.68–6.87;
p
< 0.05). The
NAT2
slow genotype also significantly increased the risk of bladder cancer in heavy smokers (OR 8.57, 95 % CI 1.82–40.25;
p
< 0.05). Among the different combinations of the four enzyme genotypes, the highest OR (4.20; 95 % CI 1.34–13.14;
p
< 0.05) was obtained with the
NAT2
slow genotype when present in combination with the
UGT2B7
*2
/
*2
or
*1
/
*2
genotype.
Conclusions
Our results suggest that individuals with different genotypes for the enzymes involved in metabolizing carcinogenic arylamines have a different risk of developing bladder cancer. In particularly, the combination of the
NAT2
slow genotype with
UGT2B7
*1
/
*2
or
*2
/
*2
genotype is a high risk factor for bladder cancer.