01.12.2017 | Research article | Ausgabe 1/2017 Open Access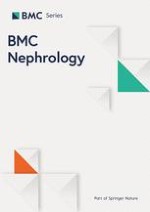 Association of IL1 beta gene polymorphism and allograft functions in renal transplant recipients :a case control study from Kashmir Valley
Zeitschrift:
Autoren:

Mohammad Ashraf Bhat, Manzoor Ahmad Parry, Saniya Nissar, Aga Syed Sameer, Imtiyaz A. Bhat, Zafar A. Shah, Roohi Rasool
Abstract
Background
Cytokines have been found to be the important mediators during renal graft outcome. Therefore, we designed this study to investigate the role of recipients' IL-1 β promoter (−511) and IL-1 β exon-5 (+3954) polymorphisms with the risk of graft outcome.
Methodology
We enrolled one hundred recipients of living-related renal transplants together with the age and sex matched controls from the healthy population not having any renal abnormality for this study. Genotype frequencies of the IL-1 β promoter (−511) and IL-1 β exon-5 (+3954) were analyzed using PCR-RFLP technique.
Results
Our results revealed significant differences in the healthy control group and patient group in IL
1β +3954
(
p
 < 0.001). The frequency of variant type TT genotype was higher in RE group as compared to SGF and showed 4 fold risk of rejection (OR = 4.54,
p
 < 0.069) although
p
value was not significant. The frequency of wild type CC genotype and CT was not significant (
p
value 0.89 and 0.74 respectively).
Conclusion
Our findings suggest that there is a prevalence of mutated allele of IL-1 gene cluster in our population, which may be responsible for renal dysfunction.