01.03.2013 | Original Paper | Ausgabe 1/2013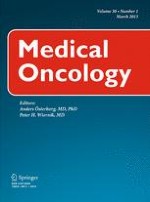 Association of
LAPTM4B

gene polymorphism with nasopharyngeal carcinoma susceptibility in a Chinese population
Zeitschrift:
Autoren:

Bing Wang, Jianjun Xu, Rouli Zhou, Qingyun Zhang
Abstract
Lysosome-associated protein transmembrane-4 beta (
LAPTM4B
) is a novel cancer-related gene. It has two alleles designated
LAPTM4B
*1 and
LAPTM4B
*2. Previous studies have revealed that
LAPTM4B
polymorphisms contribute to the risk of many cancers. The aim of this study was to investigate the association between different
LAPTM4B
alleles and the risk of nasopharyngeal carcinoma (NPC), one of the most common cancers in southern China. Using polymerase chain reaction (PCR) in a case–control study, we detected the
LAPTM4B
genotype in peripheral blood samples from 134 patients with NPC and 327 control subjects. The chi-square test was used to analyze differences of categorical variables and Hardy–Weinberg equilibrium. Odds ratios and 95 % CI were computed using an unconditional logistic regression model. The frequency of allele *2 was 26.87 % in the NPC group, which was not significantly different from that of the control group (27.98 %,
P
= 0.867). Using the
LAPTM4B
*1/1 genotype as a reference, we found that the *1/2, *2/2 and *1/2 + *2/2 genotype were also not associated with the risk of NPC. No association was observed between
LAPTM4B
gene polymorphisms and the risk of NPC adjusted by gender and age. The results of our study indicated that the polymorphism of
LAPTM4B
gene did not influence the susceptibility of NPC in the Chinese population. Large-scale studies are needed to confirm our findings.