01.12.2017 | Research article | Ausgabe 1/2017 Open Access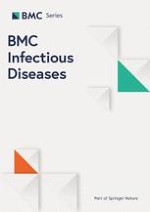 Association of mannose-binding lectin gene polymorphisms with the development of pulmonary tuberculosis in China
Zeitschrift:
Autoren:

Yan-Ling Guo, Yang Liu, Wu-Juan Ban, Qi Sun, Guang-Li Shi
Abstract
Background
Mannose-binding lectin (MBL) is an important protein in the lectin pathway of the immune system. This study explores the association between MBL polymorphism and the susceptibility to tuberculosis (TB). The association between the MBL2 polymorphisms and serum MBL levels is also analyzed in the present study.
Methods
A total of 112 inpatients with pulmonary TB and 120 healthy controls were recruited to participate in this case–control study. Polymerase Chain Reaction-Restriction Fragment Length Polymorphism(P
C
R-RFLP) technology was used to genotype MBL gene (variants in −221Y/X and exon l codons 54 A/B). Serum MBL level was assayed by human MBL ELISA kit. Demographic data and exposure information were also obtained from the study participants.
Results
Genotypes YA/YA of MBL gene were more prevalent in the healthy control group than in the TB patient (
P
=0.038, OR, 0.57; 95% CI, 0.34-0.97) and genotypes XA/XA were less frequent in the healthy control group (
P
=0.007, OR, 6.42; 95% CI, 1.39-29.67). The resistant diplotype was more frequently found in the younger patients and retreatment cases with TB in MBL gene sites −221Y/X or codon 54 A/B. X/Y and A/B polymorphisms were strong determinants of serum MBL levels.
Conclusion
The polymorphisms of MBL gene may be associated with susceptibility to TB and the recurrence of TB. The YA/YA may be a protected diplotype against TB.