22.05.2018 | Original Article | Ausgabe 11/2018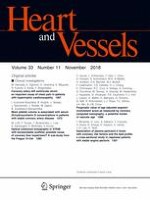 Association of plasma pentraxin-3 levels with coronary risk factors and the lipid profile: a cross-sectional study in Japanese patients with stable angina pectoris
Zeitschrift:
Autoren:

Tetsuji Morishita, Hiroyasu Uzui, Akira Nakano, Yoshitomo Fukuoka, Hiroyuki Ikeda, Naoki Amaya, Kenichi Kaseno, Kentaro Ishida, Jong-Dae Lee, Hiroshi Tada
Wichtige Hinweise
Tetsuji Morishita and Hiroyasu Uzui have contributed equally to this study.
Abstract
The aim of this study was to evaluate the relationships among the traditional risk factors, lipid profile, and pentraxin-3 in stable angina (SAP). Plasma pentraxin-3 and serum LDL, HDL, and high-sensitivity CRP levels were measured in 163 SAP and 28 non-coronary artery disease (CAD) patients. Their relationships with five risk factors, hypertension (HT), dyslipidemia (DL), diabetes mellitus (DM), obesity (body mass index: BMI > 25 kg/m
2
), and high age (> 75 years), were evaluated. No significant difference was observed in the pentraxin-3 level between patients in SAP and in non-CAD [2.1 (1.4–3.5) ng/ml versus off 2.6 (1.6–3.8) ng/ml,
P
 = 0.56). In SAP patients, pentraxin-3 levels decreased with more risk factors, according to the number of 3 traditional risk factors (HT, DL, and DM) and the number of 5 expanded risk factors (HT, DL, DM, obesity, and high age) (
P
for trend = 0.01 and 0.05, respectively). Pentraxin-3 showed a positive association with HDL (rs = 0.229;
P
 = 0.050) and an inverse association with LDL (rs = − 0.224;
P
 = 0.045). On multiple logistic regression, the number of 3 traditional risk factors was a significant predictor of pentraxin-3 levels (odds ratio = 0.444; 95% confidence interval  0.205–0.963,
P
 = 0.040) in SAP patients. In SAP patients, the cardiovascular risk factor burden remained a negative impact on pentraxin-3 levels after multivariate analysis, suggesting that they have distinct roles in atherosclerosis.
Trial registration: UMIN000023837.