01.02.2013 | Chinese section | Ausgabe 2/2013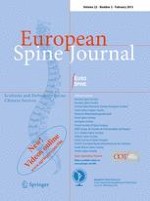 Association of rs11190870 near
LBX1

with adolescent idiopathic scoliosis susceptibility in a Han Chinese population
Zeitschrift:
Autoren:

Hua Jiang, Xusheng Qiu, Jin Dai, Huang Yan, Zezhang Zhu, Bangping Qian, Yong Qiu
Wichtige Hinweise
H. Jiang, X. Qiu and J. Dai contributed equally to this work.
Abstract
Purpose
To investigate whether rs11190870 near
LBX1
correlates with the susceptibility or curve progression of adolescent idiopathic scoliosis (AIS) in a Han Chinese population.
Methods
A total of 949 AIS patients and 976 age-matched healthy controls were recruited. All the subjects were genotyped using the PCR-based invader assay. Case–control study and case-only study were performed to define the contribution of rs11190870 to predisposition and curve severity of AIS. Additionally, we further conducted a meta-analysis of the study findings together with those of previously reported studies.
Results
A significant association of rs11190870 with AIS was observed in the Han Chinese population (
P
= 1.8 × 10
−9
; odd ratio = 1.51; 95 % confidence interval = 1.33–1.71), and AIS patients with TT genotype had a larger Cobb angle than those with TC or CC genotype (
P
= 0.005). The meta-analysis confirmed that the positive association of this SNP with AIS in the East Asian population.
Conclusions
The SNP rs11190870 near
LBX1
is associated with both susceptibility and curve progression of AIS.