01.12.2017 | Research | Ausgabe 1/2017 Open Access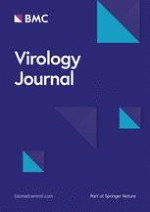 Association of the tandem polymorphisms (rs148314165, rs200820567) in
TNFAIP3

with chronic hepatitis B virus infection in Chinese Han population
Zeitschrift:
Autoren:

Na Li, Ying Shi, Pingping Zhang, Jiao Sang, Fang Li, Huan Deng, Yi Lv, Qunying Han, Zhengwen Liu
Wichtige Hinweise
Electronic supplementary material
The online version of this article (doi:
10.​1186/​s12985-017-0814-5
) contains supplementary material, which is available to authorized users.
Background
Methods
Study subjects
Patients with chronic HBV infection included in this study was recruited from the First Affiliated Hospital of Xi'an Jiaotong University. Patients who had a history of chronic HBV infection for more than 6 months and had not been treated with nucleos(t)ide analogues or interferon (IFN)-α and other immunotherapy were eligible for inclusion. The diagnosis of the clinical diseases, namely, chronic hepatitis, liver cirrhosis, and HCC, in the patients was based on a history of HBV infection more than 6 months, and serostatus of HBV infection markers, HBV DNA level, biochemical liver function, α-fetoprotein (AFP) level, ultrasonography and/or computerized tomography (CT)/magnetic resonance imaging (MRI) and/or the pathological findings of liver biopsy. Infections with hepatitis A virus (HAV), hepatitis C virus (HCV), hepatitis E virus (HEV) and human immunodeficiency virus (HIV) were excluded in all the patients. Coexistence of autoimmune, alcoholic, drug-induced or metabolic liver disease was also excluded in all the patients. HBV infection resolvers and healthy individuals were also recruited as controls. The HBV infection resolvers were recruited from individuals who performed their routine physical examination. Healthy control individuals were recruited from voluntary blood donors. HBV infection resolvers were those who had normal liver biochemical function, seropositive results of anti-HBs and anti-HBc, and no other diseases. The healthy controls were those who had normal liver biochemical function, no histoty of hepatitis B, and no other diseases. Totally, 419 patients with chronic HBV infection, 77 HBV infection resolvers and 175 healthy controls were recruited as study subjects. All the subjects were of Chinese Han ethnicity.
Determination of serum HBV markers, liver biochemistry and AFP levels
Serum HBV markers including HBsAg, anti-HBs, HBeAg, anti-HBe and anti-HBc, biochemical liver function including alanine transaminase (ALT) and aspartate aminotransferase (AST) levels (IU/L), serum HBV DNA levels (IU/ml), and serum AFP levels (ng/ml) were routinely determined as described previously [
21
].
Genotyping of the
TNFAIP3

tandem polymorphisms (rs148314165, rs200820567)

Genomic DNA was extracted from EDTA-treated peripheral blood using TIANamp Genomic DNA Kit (Tiangen Biotech (Beijing) Co., Ltd., Beijing, China) according to manufacturer's instruction. Genotyping of TNFAIP3 rs148314165, rs200820567 polymorphisms was carried out by DNA amplifications with polymerase chain reaction (PCR) and specific primers, followed by direct sequencing. The primers used for amplification of rs148314165 polymorphic sequence are: forward 5′ TTCTGGGTACTTCTCAACAAGATG 3′ and reverse 5′ TCCATGAGGGTATCAGGACTTC 3′, and the primers used for amplification of rs200820567 polymorphic sequence are forward 5′ ATTCCTTCATGTATGTATTGCTTTG 3′ and reverse 5′ AGGACTTCCCAAAAGGGTAAG 3′.

The PCR was carried out in a volume of 50 μl reaction, containing 1 μl template, 1 μl of each primer, 1 μl dNTP (10 mM), 5 μl Taq Buffer, 5 μl 25 mM MgCl

2

, 0.5 μl P

fu

DNA Polymerase (5 U/μl, Sangon Biotech (Shanghai) Co., Ltd. Shanghai, China), and 35.5 μl sterile double distilled water. The reaction mixture was pre-heated at 95 °C for 3 min, then amplified 35 cycles using the following program: heated at 94 °C for 30 s, annealing at 55 °C for 35 s and extension at 72 °C for 40 s, and lastly extended at 72 °C for 5 min. The amplified PCR products were purified using PCR Product Purification Kit (Sangon Biotech (Shanghai) Co., Ltd. Shanghai, China) according to the instruction of the manufacturer and then applied for sequencing. The sequences were analyzed using SeqMan software (version 5.51; DNASTAR, Inc., Madison, WI).
Statistical analysis
Statistical analysis was performed by SPSS software version 16.0 (SPSS, Inc., Chicago, IL). The frequency of genotypes and alleles was estimated by direct gene counting method. Hardy-Weinberg equilibrium of the polymorphism was tested by χ
2
test. Haplotypes were estimated by the SHEsis method [
24
,
25
]. The association between polymorphisms and clinical diseases was tested using χ
2
test for contingency tables or Fisher's exact test where applicable. Odds ratios (OR) and its 95% confidence interval (CI) were calculated to estimate the risk conferred by a particular genotype, allele or haplotype. Association of the polymorphisms with disease phenotypes was also performed by logistic regression analysis with adjusting for covariates. A
P
value <0.05 was considered statistically significant.
Results
Discussion
Conclusions
This study, for the first time to our knowledge, investigated the TT > A variant of the polymorphic dinucleotide (rs148314165,rs200820567) in
TNFAIP3
in Chinese patients with chronic HBV infection, and found that the TT > A variant was more frequent in patients with chronic HBV infection than in healthy controls, suggesting the predisposing effect of the TT > A variant on the susceptibility of chronic HBV infection. However, these findings were very preliminary because of the small sample size of patients and controls included in the study. The association analysis of the TT > A variant with clinical diseases were based on the crosssectional diseases of patients with chronic HBV infection. Therefore, additional studies in large patient and control populations, eapecially in patients with chronic HBV infection of longitudinal follow-up of the disease progression, are required to further clarify the role of this important TT > A variant of
TNFAIP3
in the susceptibility of chronic HBV infection and disease progression related to the infection.
Acknowledgements
We thank Dr. Guoyu Zhang and Dr. Zhu Li for their support and help to this study.
Funding
This work was supported in part by funding from the National Natural Science Foundation of China (Grant no. 81371798).
Availability of data and materials
The datasets during and/or analyzed during this study are available from the corresponding author on reasonable request.
Ethics approval and consent to participate
This study was conducted in accordance with the Declaration of Helsinki and approved by the Ethics Committee of the First Affiliated Hospital of Xi'an Jiaotong University. Informed consents were obtained from all the participants in this study.
Consent for publication
Not applicable.
Competing interests
The authors declare that they have no competing interests.
Publisher's Note
Springer Nature remains neutral with regard to jurisdictional claims in published maps and institutional affiliations.
Open Access
This article is distributed under the terms of the Creative Commons Attribution 4.0 International License (
http://​creativecommons.​org/​licenses/​by/​4.​0/​
), which permits unrestricted use, distribution, and reproduction in any medium, provided you give appropriate credit to the original author(s) and the source, provide a link to the Creative Commons license, and indicate if changes were made. The Creative Commons Public Domain Dedication waiver (
http://​creativecommons.​org/​publicdomain/​zero/​1.​0/​
) applies to the data made available in this article, unless otherwise stated.