25.07.2017 | Original Article | Ausgabe 4/2018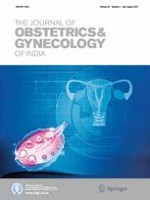 Association of Thyroid Dysfunction and Autoimmunity in Pregnant Women with Diabetes Mellitus
Zeitschrift:
Autoren:

Hiralal Konar, Madhutandra Sarkar, Manas Roy
Wichtige Hinweise
Hiralal Konar is in the Department of Obstetrics and Gynecology, Calcutta National Medical College and Hospital, Kolkata, West Bengal, India. Madhutandra Sarkar is in the Department of Community Medicine, Institute of Medical Sciences, Banaras Hindu University, Varanasi, Uttar Pradesh, India. Manas Roy is Obstetrician-Gynecologist in Rampurhat Sub-Divisional Hospital, Rampurhat, West Bengal, India.
Abstract
Purpose
This study was undertaken to find out the proportion of women with thyroid dysfunction in pregnancy complicated by diabetes mellitus; to find out the association, if any, of thyroid dysfunction and of antithyroid peroxidase (anti-TPO) antibodies during pregnancy in women with pregestational (PGDM) and gestational diabetes mellitus (GDM); and to find out the maternal and perinatal outcomes of pregnancies complicated by both diabetes mellitus and thyroid dysfunction.
Methods
A cross-sectional observational study was conducted in a tertiary care teaching hospital in Kolkata, India, for a period of 1 year. Sixty-four pregnant women with diabetes, both PGDM and GDM, were recruited from the antenatal clinic. They were managed and followed up till 6 weeks postpartum. Their plasma glucose levels were estimated, and thyroid function was evaluated periodically. All relevant data were recorded and analyzed statistically.
Results
Most (81.25%) women had GDM. Forty percent women suffered from some form of thyroid disorder, mostly (37.5%) hypothyroidism. Thyroid dysfunction was not associated with the type of diabetes mellitus (GDM or PGDM) (
p
> 0.05). The higher rate of anti-TPO titers was observed in pregnancies with PGDM compared to pregnancies with GDM; however, this difference was not statistically associated (
p
> 0.05). All pregnant women with combined endocrinopathy delivered by cesarean section, and the most common neonatal complication observed was jaundice.
Conclusions
Thyroid disorders are quite common during pregnancy complicated by diabetes mellitus. The study findings warrant routine screening for thyroid abnormalities in diabetic pregnant women. These women have increased rate of maternal and neonatal complications.